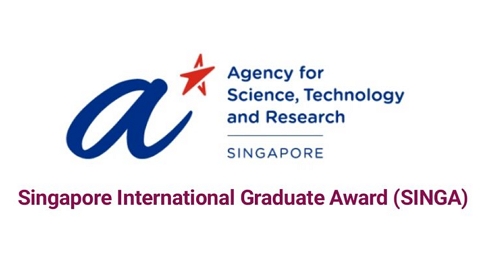 Applications for the Singapore International Graduate Award (SINGA) are currently being invited from international students seeking to further their postgraduate research work in Singapore.
Do you want to become a distinguished and renowned researcher? Pursue your PhD education in Singapore, establish global links and take your research career to the next level. You can get up to S$2,700 monthly stipends after qualifying exams, amongst other benefits.
Scholarship Description
The Singapore International Graduate Award (SINGA) is a collaboration between the Agency for Science, Technology & Research (A*STAR), and the Nanyang Technological University (NTU), the National University of Singapore (NUS), the Singapore University of Technology and Design (SUTD) and the Singapore Management University (SMU).
Award Benefits
SINGA fosters a vibrant and culturally diverse research community of international students. You will be:
working in a multi-cultural environment alongside distinguished and world-renowned researchers.
getting up to 4 years support, including Tuition fees, Monthly stipend up to S$2,700 after the passing of the Qualifying Examination.
getting a one-time airfare grant of up to S$1,500, One-time settling-in allowance of S$1,000.
Also Check:  KAUST Master and PhD Fellowship in Saudi Arabia
Level and Area of Studies
Postgraduate studies (PhD) in:
Biomedical Sciences.
Computing and Information Sciences.
Science and Engineering.
Physical Sciences.
Place of Study
Your chosen lab at the A*STAR Research institutes, NTU, NUS, SUTD, and SMU.
Eligibility and Criteria
Open for application to all international graduates with a passion for research and excellent. academic results.
Good skills in written and spoken English.
Good reports from academic referees.
The above eligibility criteria are not exhaustive, but include other policies of the institutions.
See Also: Fulbright Foreign Students Program
Application Instruction
The first step in applying for Singapore International Graduate Award is to:
check the Research Areas in the scholarship portal and browse the projects you are interested in.
Then submit your application online with all necessary application documents.
You will be notified within 12 weeks after the application closing date if you are shortlisted.
Application Deadline: December 1 yearly.