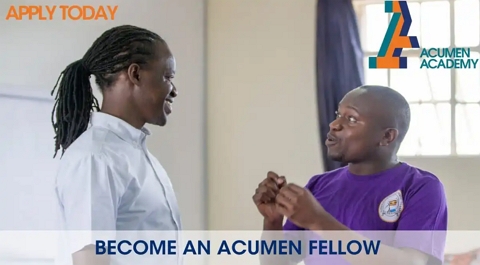 Each year, the Acumen East Africa Fellowship Programme brings together 20 extraordinary individuals tackling poverty and injustice in their communities and equips them with the knowledge, skills, and community to strengthen their leadership, as well as the capacity of their ventures to scale and create meaningful change in East Africa. Are you a social changemaker? Then apply now!
Fellowship Description
The Acumen East Africa Fellowship Programme begins with an intensive leadership programme. Fellows remain in their jobs while taking part in a series of multi-day virtual seminars, paired with online group and individual assignments between seminars, all connected by group practice. This is where practical skills meet moral imagination. The programme is designed to increase a Fellow's capacity to lead social change and tackle problems of poverty and injustice.
Benefits
After the first year, Fellows become part of Acumen's global community of social innovators, who are committed to life-long learning, collaboration, and accompaniment as they drive change. The Fellowship is fully funded.
See Also:  Chevening Clore Leadership Fellowship (Fully Funded to the UK)
When is the Acumen East Africa Fellowship?
The next East Africa Fellowship runs from May 2024 to December 2024.
Sponsor Organisation
Acumen Academy East Africa.
Fellowship Delivery
Virtual Content.
Programme Structure
A diverse cohort of 20 leaders from Kenya, Uganda, Tanzania, Rwanda, Burundi, South Sudan, and Ethiopia.
Acumen Fellows are drawn from diverse sectors, disciplines, organisations and social change journeys.
All programme costs covered by Acumen Academy East Africa.
Multiple virtual multi-day seminars and workshops, paired with individual and group online assignments between seminars.
Learning that is immediately applied to your life and work.
Peer coaching that challenges and accompanies you in your social change work.
Cultivate a deeper understanding of yourself and your work in a broader context.
Navigate uncertainty and embrace the meaningful process of creating change
Eligibility Criteria
To be eligible for the Acumen East Africa Fellowship Programme, you can be:
Entrepreneurs: Leaders of both for-profit and nonprofit organizations providing critical goods or services to the underserved.
Intrapreneurs: Leaders who are bringing to life new initiatives or approaches within the organization. The focus is on designing, testing, incubating, and implementing ideas that enable the organization to pursue its purpose.
Organizational Builders: Leaders who play an integral role in building the organization. The focus is on building the internal blocks, systems, and processes that enable the organization to pursue its purpose.
Check Also:  MCW Young Leaders Fellowship in USA
Application Procedure
How-To-Apply: The application process for the Acumen East Africa Fellowship Programme consists of these four stages:
Stage 1: Apply online — what are you telling us? Open 3rd January and close on 3rd February.
Stage 2: Complete your online assignments — what are you showing us?
Stage 3: Attend the Selection Conference — why is this the right time for you to be a Fellow?
Stage 4: Start the Acumen Fellowship in May.
Apply Now!