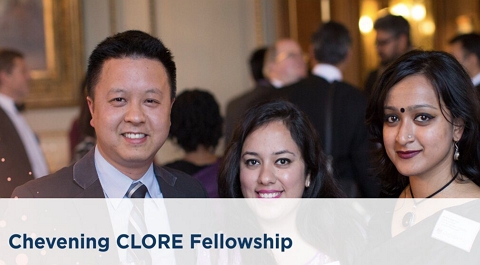 The Chevening Clore Leadership Fellowship is a tailored programme of leadership development which aims to enrich and transform cultural practice and engagement by developing leadership potential, acumen and skills.
The Chevening Clore Leadership Fellowship brings together some of the most creative and dynamic cultural leaders in the UK and internationally for an intense personal and professional learning experience unlike any other. Clore Leadership Fellowship will support you to be the leader you have the potential to be, through in-depth learning, tailored to your individual needs, aspirations and circumstances.
Fellowship Description
The Chevening Clore Leadership Fellowship runs in 2023, from September 2023 – March 2024 with a loose framework designed to boost the development of exceptional cultural leaders at a pivotal point in their career. It is adaptive and self-guided, so you'll need to be highly motivated and deeply curious.
The Chevening Clore Leadership Fellowship is a learnt not a taught programme. It is experiential, grounded in practice, and underpinned by contemporary leadership theories and approaches.
See Also: Black Mountain Institute Shearing Fellowship (Fully Funded)
Course / Programme Structure
As a part of Chevening Clore Leadership Fellowship, each international fellow will undertake an individually tailored programme based in the UK which will include:
Two residential leadership courses in September 2023 and March 2024
Three day-long non-residential skills-based workshops
A two-day 'Urban Intensive' team project
A 360° leadership profile
A four – six week secondment in a UK based cultural organisation, (normally in an organisation or field very different to your usual workplace or practice) where you'll be working on a 'live' project set by your host organization
Bespoke learning opportunities through conferences, courses and study visits and peer/sector networking.
Focused support from a mentor or coach.
Thought leadership exploration through a written provocation paper.
The Fellowship starts in September 2023, with fellows travelling from their home country to the UK to undertake the 1st fellowship residential in September 2023 and then will return to their home country in early October.
Fellows will then return to the UK in January 2024 to undertake the majority of the fellows' individual training and development programmes. This will include workshops, individual secondments, mentoring, attendance at courses and conferences, and the 2nd Fellowship residential course in March, which completes the programme.
Also Check: GI-TOC Resilience Fellowship Program
Application Procedure
For key steps and dates during the application process to apply for Chevening Clore Leadership Fellowship, please follow the placement timeline.
Applications opens until November 1.