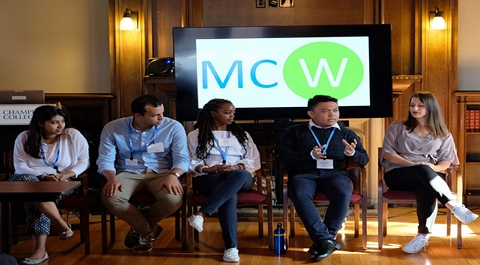 MCW Young Leaders Fellowship Program hereby invites applications from suitably qualified persons who are hardworking, enthusiastic, passionate, and eager to contribute to uplifting the developing and underdeveloped regions of the World. The impactful program fully funds the fellows to U.S. Young and aspiring leaders are encouraged to send forward applications before the deadline.
Fellowship Details
MCW Global is a non-profit organization with a vision for communities around the world to achieve greater levels of education, improved health, and increased economic security. Its mission is to address communities' pressing needs by empowering current leaders and readying leaders of tomorrow.
MCW Global's commitment to leadership and community development, by providing training, mentorship, funding, and networks, has led to the formation of the Young Leaders Program: a collection of four distinct opportunities for young leaders with a desire to play their part in the positive transformation of their communities.
See Also: 20+ Fully Funded Exchange Programs in USA
Program Benefits
Economy flight tickets for participants
Accommodation
Food
Stipend
Level and Areas of Study
Non-degree program in leadership and other related areas.
Eligibility Criteria
To meet the criteria for MCW Young Leaders Program, applicants must be:
Aged between 16 to 25.
Able to show commitment to the community.
Able to identify the community projects in the areas of health, education or economic security.
Able to complete the community needs assessment.
Fluent in oral and written English.
Connected to the internet for swift communication for the period of the program.
Compliance with the program's guidelines.
Check Also: Obama Foundation Fellowship in USA
Application Procedure
Applicants are required to create an online account.
Fill in the general information on the application form.
Provide the supporting documents (Two letters of recommendation and a one-page resume in 12 font Times New Roman with a 1-inch margin).
Complete the application form and submit it.
Submission Deadline: November 18.