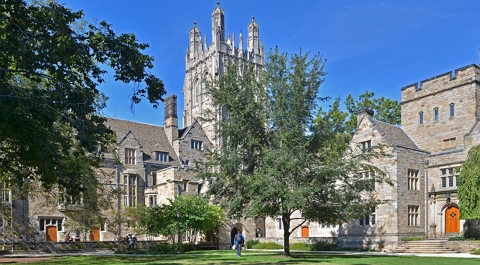 Study at Yale University, USA | Scholarships and Application Guide: International Students can Study in Yale University without much hassles in securing admission, as the university is very welcoming to outstanding scholars from around the globe who are ready to make some impact, and influence or contribute to the solutions on matters affecting the world.
Scholarship Details
Apply for the Yale University Scholarships in USA: Yale University – where leaders are made, being an international, multi-cultural, multidisciplinary academic environment for study, research and fellowships, is open to international students, and yearly welcomes them with a bouquet of scholarship opportunities and multinational engagements. Yale University is one of the best universities in the USA and as part of the Ivy League of schools, it offers Scholarships to all levels of international students from Undergraduate, Master's, Doctoral, to Postdoctoral degrees and Research and Exchange programs. Many international students making USA their study destination apply for Yale University Scholarships.
In this post, we will give you the detailed information about Yale University Scholarships, and a step-by-step details about the Scholarships offered by Yale and how to secure them.
Yale University Scholarships in USA | Details of Scholarships Available
Yale University offers a wide range of academic options in various fields for undergraduate and graduate students. Some are Tuition, some Grants and some more are Fully Funded Scholarships.
Details About Yale University Scholarships:
University Name: Yale University
Location: New Haven, Connecticut, USA
Level of Study: Undergraduate, Masters, PhD and Postdoctoral in various disciplines.
Deadline: Various for Undergraduates / Graduates
Deadline: 15th December.
See Also: Harvard Radcliffe Fellowships, USA
Yale University Scholarship Conditions and Grants
The Scholarships available at Yale University are offered by the departments as well as by Yale University Grants:
Yale University scholarship – covers 100% of the financial need demonstrated by the family.
Takes into account your parent's income, assets, and finances to determine your scholarship amount.
Yale Scholarship can vary from a few hundred dollars to over $70,000 per year; the average Yale need-based scholarship is over $50,000.
Students whose parents earn less than $65,000 a year do not pay anything – tuition, room, and board are covered!
Other Scholarships at Yale University:
Eligibility Criteria for Yale University Scholarships
For students to be eligible for Yale Scholarships, they must fulfill the following criteria:
Meet the Language Requirement:
TOEFL scores of at least the following:

100 on the internet-based TOEFL
600 on the paper-based TOEFL
250 on the computer-based TOEFL

IELTS scores of 7 or higher and Pearson Test scores of 70 or higher.

You can check here for more information.

Be enrolled in or eligible to participate in the Federal Free or Reduced Price Lunch program (FRPL).
They have received or are eligible to receive an ACT or SAT testing fee waiver.
Be enrolled in a federal, state, or local program that aids students from low-income families (e.g., TRIO programs such as Upward Bound).
Be a ward of the state or an orphan.
Annual family income falls within the Income Eligibility Guidelines set by the USDA Food and Nutrition Service.
You are living in a federally subsidized public housing, a foster home or are homeless.
Your family receives public assistance.
You can provide a supporting statement from a school official, college access counsellor, financial aid officer, or community leader.
Check Also:
How to Apply for Yale University Scholarships
The following are the specific requirements needed to apply for the Yale University scholarships:
Two Teacher Recommendations
$80 Application Fee or Fee Waiver
Standardized Testing Results
Counsellor Recommendation and School Report (including transcript)
Final Report
Mid-Year Report
For Undergraduate students, check here to apply.
Graduate students can check here to choose the appropriate program from and apply.
An e-mail will be sent to you for acceptance or refusal of the offer.