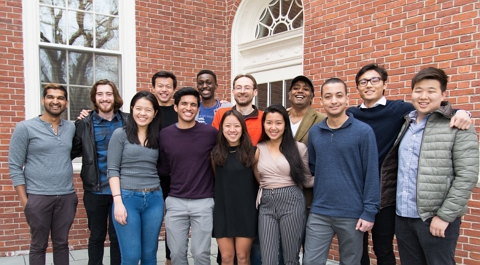 Harvard Radcliffe Fellowships Program awards 50 fellowships each academic year. Applicants may apply as individuals or in a group of two to three people working on the same project. Harvard Radcliffe Institute fellowships are in-residence for a period of nine months from September 1 through May 31, each academic year.
Scholarship Description
The Harvard Radcliffe fellowships are for exceptional scientists, writers, scholars, public intellectuals, practitioners, and artists whose work is making a difference in their professional fields and in the larger world.
Based in the heart of Harvard University—fellows join a uniquely interdisciplinary and creative community. A fellowship at Radcliffe is an opportunity to step away from usual routines and dive deeply into a project. With access to Harvard's unparalleled resources, Radcliffe fellows develop new tools and methods, challenge artistic and scholarly conventions, and illuminate our past and our present.
See Also:  Harvard Academy Scholars Program, USA
Award Value
Receive office or studio space in Byerly Hall and,
Full-time Harvard appointments as visiting fellows
Receive a stipend of $78,000 plus an additional $5,000 to cover project expenses.
Access to Harvard University's various resources, including libraries, housing, and athletic facilities.
Coverage of the hourly wages of Harvard undergraduate students hired as Research Partners,
Become a Harvard Radcliffe Fellow.
Level and Area of Studies
Doctorate in the area of the proposed project.
It is Multidisciplinary and Interdisciplinary
Place of Studies
The Harvard Radcliffe Institute of the Harvard University, USA
Eligibility and Criteria
Applicants for the Harvard Radcliffe Fellowships must have received their doctorate in the area of the proposed project at least two years prior to their appointment as a fellow. We advise that applicants visit the Radcliffe Online Application Portal for full details on the Eligibility detail and criteria.
Check Also:  ACU Community Challenge Grants (Up to £10,000)
Application Procedure
To apply for this Harvard Radcliffe Fellowships program, we advise that candidates must have read through carefully and thoroughly the guidelines and instructions on how to apply on the official web page.