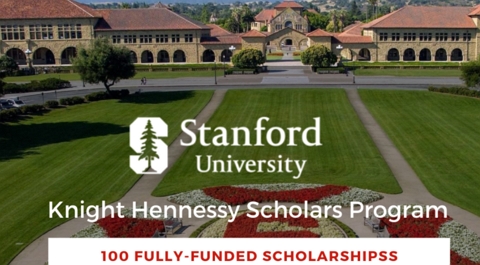 Applications are invited for the Knight-Hennessy Scholars program – a program of the Stanford University which cuts across multidisciplinary and multicultural community of students without restrictions to age, college or university, field of study, or career aspiration.
Scholarship Description:
The Knight-Hennessy Scholars program is cultivated to support a highly-engaged, multidisciplinary and multicultural community of graduate students from across Stanford University, and delivers a diverse collection of educational experiences, preparing graduates to address complex challenges facing the world.
It genuinely seeks visionary thinkers who are curious, open-minded, analytical, eager for cross-cultural perspective, and genuinely excited to boldly and creatively address important challenges.
See Also:  Biodesign Innovation Fellowships at Stanford University
Number of Awards:  Up to 100 awards
Level and Area Studies:
Stanford's graduate programs in DMA, JD, MA, MBA, MD, MFA, MPP, MS, or PhD. There are no quotas by discipline or program.
Eligibility and Criteria:
You must apply to, be accepted by, and enroll in a full-time Stanford graduate degree program. Each incoming Knight-Hennessy Scholar must be a newly enrolling student in a Stanford graduate program.
You must have earned, in January 2015 or later, a U.S. bachelor's degree or its equivalent from a college or university of recognized standing.
For U.S. military (active or veteran) applicants, the eligibility window will be extended by two years in acknowledgement of longer service commitments.
Current college students are eligible if you will earn your first degree by September 2022.  The eligibility preference is not based on recency of the degree.
Check Also:  Harvard Radcliffe Fellowships, USA
Application Procedure
Applications are to be submitted online. Detailed information on how to apply is available at the official website.
Please note that the Knight-Hennessy Scholars program follows the practices of your graduate degree program; whether or not it requires a standardized test scores. If it does, you must supply the details.
Application Deadline
Important dates and deadlines for the Knight-Hennessy Scholars program are stated on the application page.
Application Period: July 1 through October 12.