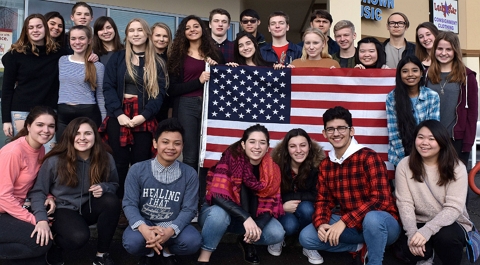 The U.S. Department of State offers many Fully Funded Exchange Programs in USA for non-U.S. Citizens as well as U.S. Citizens. So, if you are an Undergraduate student, a Graduate student, or even a Postgraduate student looking for such opportunity in the US, there are quite a number of them available. Summer exchange programs are equally available for students from the 9th and 10th grades. There are also Cultural Exchange programs in the United States available to all ages of students from 16 to 45 years, and for all levels of study.
What are Exchange Programs
Exchange Programs are such arrangements in which students from different countries visit each other's country based on diplomatic ties, perhaps to strengthen links between them or to improve foreign language skills and even engage in academic studies leading to award of a degree sometimes. There are currently numerous arrangements of such Fully Funded Exchange Programs in USA open and available to all ages from 16 to 45 years of age.
There are also summer exchange programs for high school students for the 9th & 10th Grade. While for undergraduate and graduate Students, Semester Exchange Programs, Summer Exchange Programs, and Graduate Exchange and Academic Exchange Programs are available. The program is open to all fields without the IELTS/TOEFL requirements, no Application Fees, nor Work Experience or gender restrictions.
See Also: Top International Scholarships to Study in Japan (Fully Funded)
The aim of the US Exchange Programs is to promote mutual cultural, language and academic understanding between the people of different countries and the United States. There are different exchange programs for different countries, and we will be listing down some of the most globally popular USA Exchange programs and their website links to enable you access and find these various programs for educational, cultural, and professional exchanges across the world.
Programs Type: Fully Funded
Level and Areas of Studies:

All levels from the 9

th

grade, to Undergraduate, to Graduate and Postgraduate programs.

Place of Exchange Programs:

  Top Institutions in the United States of America.
If you need an opportunity to study outside your country, you can take advantage of the below listed exchange programs to study in the United States fully funded.
List of Fully Funded Exchange Programs in USA
#1 SUSI Summer Exchange Program
The Study of U.S. Institutes (SUSI) Summer Exchange Program are five- to six-week academic programs focusing on topics in U.S. studies for groups of foreign undergraduates, scholars, and teachers. Program participants are recruited and nominated by Public Affairs Sections (PAS) of U.S. Embassies and Consulates, and in some cases, Fulbright Commissions around the world.
#2. Global Undergraduate Exchange Program
The Global UGRAD program is a most Prestigious exchange program where International Students have the opportunity to Spend One semester in the US Colleges and Universities. The Global Undergraduate Exchange Program (Global UGRAD) brings future leaders from all around the world to the United States to experience U.S. higher education, gain critical professional skills, and explore new cultures and values.
#3. Community Engagement Exchange Program
The Community Engagement Exchange (CEE) program is a dynamic global network of innovators working with communities to address critical 21st-century issues, engaging communities in over 100 countries.
CEE is a year-long program designed to enable civil society leaders, ages 21 – 28 to harness the power of networks, relationships, and information for the public good, specifically on issues related to civic dialogue and peacebuilding, open and participatory government, women and gender, resilience and sustainable development, and youth engagement.
---
See Too: Georgian Government Scholarships without IELTS
---
#4. Hansen Summer Institute Program
Hansen Summer Institute is a 3-week Exchange Program to the United States of America. The HSI Program is about International Cooperation, Peace-making, and Leadership Exchange program to the United States of America. It is Fully Funded and Free of Cost Exchange Program in the Heart of San Diego, California.
#5. Hubert H. Humphrey Fellowship Program
The Humphrey Fellowship Program is 10 months of professional enrichment scheme and non-degree graduate-level study in the United States for accomplished mid-level professionals. Fellows are nominated by US Embassies or Fulbright Commissions based on their potential for leadership and a demonstrated commitment to public service.
#6. A New Beginning
A New Beginning builds ties between American entrepreneurs and entrepreneurs from around the globe. Each year, the initiative brings 30 leading entrepreneurs to the United States to exchange best practices with American business owners, investors, government officials, educators, and other business stakeholders.
#7. University of Iowa Summer Exchange Program
The University of Iowa Summer Exchange Program in the United States of America. This is a 2 Weeks Fully Funded Summer Exchange program USA by the U.S. Department of State.
#8. Young Leader Access Program
This program is a Fully Funded International Exchange and leadership program to the USA for all participants from all around the world. The Young Leader Access Program in the United States has components of 10 Days Conference, Year-long Fellowship, A three-four month culturally immersive Community Leaders Internship, and Professional Mentorship.
#9. Sister2sister Exchange program
Sister2sister Exchange Program is a Short Exchange Program is for Undergraduate and master's students. It is a 12 Days to 50 Days Program for 18-24 age Girls to equip with skills and knowledge needed to break cultural limitations, and participate in the competitive, lucrative careers.
#10. TechGirl Exchange Program in the USA
This is a 27 days fully funded leadership program intends to enhance career opportunities for young and passionate women from around the world. TechGirls connects and supports the next generation of women leaders in science, technology, engineering, and mathematics by providing them access and opportunities to advance their skills and pursue their dreams.
---
Recommended: Top International Scholarships to study in Japan (Fully Funded)
---
#11. The Academy for Women Entrepreneurs (AWE)
The Academy for Women Entrepreneurs (AWE) gives enterprising women the knowledge, networks and access they need to launch and scale successful businesses. This help drive localized prosperity in over 80 Countries.
#12. African Women Entrepreneurship Program (AWEP)
#13. Center Stage
The Center Stage Exchange Program is a groundbreaking cultural diplomacy initiative that connects foreign artists with American communities through the performing arts. Center Stage brings international performing artists in dance, music and theater to tour throughout the United States.
#14. Community College Initiative Program
The Community College Initiative Program (CCI) provides scholarships for one academic year at a United States community college. Participants build technical skills and may earn certificates in their fields of study. It helps participants strengthen English language proficiency and immerse themselves in the culture and day-to-day life in the United States through professional internships, service learning, and community engagement activities.
#15. Community Solutions
The Community Solutions Program (CSP) provides professional development for the best and brightest global community leaders working on issues related to the environment, tolerance and conflict resolution, transparency and accountability, and women and gender. It is a year-long program, including a four-month fellowship at a U.S. community-based organization, government office or legislative body.
The U.S. Department of State's Edward R. Murrow Program for Journalists brings more than 100 emerging international journalists from around the world to examine journalistic practices in the United States each year. The Murrow program is an innovative public-private partnership between the Department of State, the Poynter Institute for Media Studies, and several leading U.S. schools of journalism. It usually holds in October-November of each year.
#17. English Access Microscholarship Program
The English Access Microscholarship Program (Access) provides a foundation of English language skills to bright, economically disadvantaged students, primarily between the ages of 13 to 20, in their home countries.
#18. Fulbright European Union Scholar-in-Residence (EUSIR) Program
The Fulbright-Schuman Program, administered by the Commission for Educational Exchange between the United States and Belgium/Luxembourg, is jointly financed by the U.S. State Department and the Directorate-General for Education and Culture of the European Commission. The program funds graduate and post-graduate study, research, and lecture proposals in the field of US-EU relations, EU policy, or EU institutions for interested American and EU citizens.
#19. Fulbright Foreign Language Teaching Assistant (FLTA)
The Fulbright FLTA Program provides young teachers of English as a Foreign Language the opportunity to refine their teaching skills and broaden their knowledge of American cultures and customs while strengthening the instruction of foreign languages at colleges and universities in the United States.
#20. Fulbright Foreign Student Program
The Fulbright Foreign Student Program operates in more than 160 countries worldwide. It is a fully funded exchange program and approximately 4,000 foreign students receive Fulbright scholarships each year to study in the United States.
#22. Kennedy-Lugar Youth Exchange & Study (YES)
Go ahead to explore and take up the opportunities as they come. Keep following this blog for more updates on your Scholarship openings.