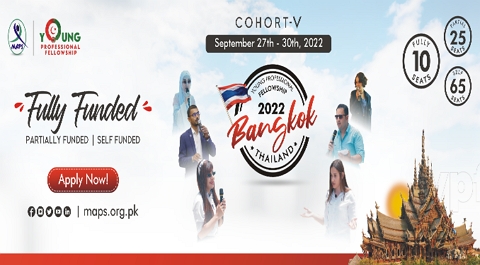 Students and bright young minds who wish to transform their personal skills in leadership, entrepreneurship and economics can now forward their applications for the MAPS Young Professional Fellowship in Thailand. The fully funded delegates will be provided with costs of air ticket, accommodation facility, visa assistance by MAPS Global Tours and other expenses. The application deadline is on August 10.
Fellowship Description
MAPS Young Professional Fellowship in Thailand is remarkable for persons who are passionate, motivated, and driven towards achieving United Nations Sustainable Development Goals (UNSDGs). The four-day (September 27 to September 30) programme will aid to polish the participant's leadership skills through engagement in multiple activities and events.
This opportunity provides the students with entrepreneurial guidance and give them the chance to meet influential politicians, business moguls and humanitarian figures who are experts in their respective fields. The participants will also be able to learn more about negative impacts of freedom of speech, climate change,  economic recession, human equality and how to mitigate them and devise the feasible solutions.
Check Also: Mandela Washington Fellowship for Young African Leaders in USA
Program Benefits
Fully funded delegates for this fellowship will get the following benefits:
Airfare cost
Accommodation facility
Visa assistance
Opportunity to interact with Global Professional Leaders
Meet like-mind entrepreneurs
Engage in group discussions, activities and keynote speeches
Get diplomatic experience
Be engaged with signatory campaign
Polished professional skills in different dimensions
Cultural presentation and gala night
Level and Areas of Study
Non-degree progamme in Leadership, Entrepreneurship, Economics and Community Development studies.
Place of Study
The fellowship programme will be held by the Mentor Amiable Professional Society (MAPS) in Bangkok, Thailand.
Eligibility Criteria
Applicants should be between 16 to 35 years of age.
Applicants should be highly motivated and open-minded.
Applicants should be passionate about their career.
Applicant should be committed to contributing their part to UNSDGs.
See Also: TWAS-BIOTEC Postdoctoral Fellowships, Thailand
Application Procedure
Apply online through the MAPS official website
Fill in the required details
Answer the questions on the application form (not more than 300 words)
Upload the attachment of National ID and valid passport
After acknowledging the terms and conditions, sign the form and submit it.
Selection Criteria will depend on the following parameters:

Motivation level
Passion for the achievement of UN SDGs
Your answers to the Questions
Submission Deadline: August 10.