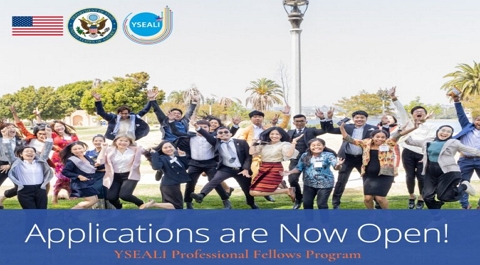 Applications for the Young Southeast Asian Leaders Initiative YSEALI Professional Fellows Program 2023 are now open for young leaders from South East Asia who have experience in the non-profit, public or private sector to apply. The programme is an exchange programme fully funded to the U.S. by the United States government.
Fellowship Description
The YSEALI Professional Fellows Programme is a fully-funded exchange program sponsored by the U.S. Department of State's Bureau of Educational and Cultural Affairs. The Young Southeast Asian Leaders Initiative (YSEALI) Professional Fellows Program (YSEALI PFP) provides emerging leaders from Southeast Asia the opportunity to spend five to six weeks in the United States gaining professionally relevant fellowship experiences at non-profit, public, or private sector organizations. The program is designed to promote mutual understanding, enhance Fellows' leadership and professional skills, and build lasting and sustainable partnerships between emerging leaders in Southeast Asia and the United States. YSEALI PFP is administered under four Institute themes: Civic Engagement, Economic Empowerment, Governance and Society, and Sustainable Development and the Environment. YSEALI PFP is open to professionals age 25-35 from any of the eleven YSEALI countries. YSEALI PFP is planned to be administered as a hybrid program, which will include virtual activities and an in-person U.S.-based Institute.
See Also: Malaysia International scholarships (Government Funded)
Award Benefits
Fully funded by the United States Government.
Host Institution
U.S. Department of State's Bureau of Educational and Cultural Affairs.
Eligibility Criteria
To be eligible to apply for the YSEALI Professional Fellows Programme, individuals must:
Be a citizen and resident of one of the eleven YSEALI nations: Brunei, Cambodia, Indonesia, Laos, Malaysia, Myanmar, Philippines, Singapore, Thailand, Timor Leste, and Vietnam. Applicants living outside of the eleven eligible countries or on a long-term program will not be considered eligible to apply.
Be an emerging leader in government, civil society, or the private sector who has demonstrated expertise pertaining to the respective theme under which he/she is applying.
Be currently employed with at least two years of relevant professional experience at the time of application.
Be between 25 and 35 years old at the start of the program (born on/after March 1, 1986 and no later than March 1, 1997).
Be self-directed and able to work effectively in a cross-cultural setting.
Be able to identify an objective/project of their own selection that the applicant would like to implement in their home workplace or community.
Have demonstrated proficiency in both written and oral English.
Have demonstrated leadership and collaborative skills.
The 2022 YSEALI PFP will be administered in two cycles. Please note that the application for both cycles is open at this time. Applicants will only participate in one cycle and can indicate their preferred cycle in their application.
Check Also: DAAD Master Study Scholarships for All Academic Disciplines
Application Procedure
Starting Your Application: The YSEALI Professional Fellows Programme application can be accessed online in the AIS Forms portal where you will complete and submit your application.
Select Your Institute Theme and Program Cycle: Here, you will be asked to rank the Institute themes in order of your preference and also indicate which of the two program cycles you would like to participate in. Dates of each cycle will be provided in the application.
Submit Your Application: To submit your online application, you must press the "Submit" button on the last page.
Materials required for the online application
Confirmation of eligibility.
Education history.
Comprehensive work experience.
Your resume or CV in English.
Three essay questions to address your motivations for applying, how your participation will impact your community, and how you intend to use your experience to support a follow-on project in your home community. Exact prompts will be provided in the application.
Two professional recommendations.
A signed copy of the Participant Terms and Conditions Agreement.
A signed copy of the American Councils Privacy Policy Statement
Program Dates:
Cycle 1: Virtual activities will begin in February 2022. The U.S.-based exchange is tentatively scheduled for June 13 – July 22, 2022 (pending travel restrictions).
Cycle 2: Virtual activities will begin in May 2022. The U.S.-based exchange is tentatively scheduled for September 12 – October 21, 2022 (pending travel restrictions).
Application Deadline: August 5, 2022