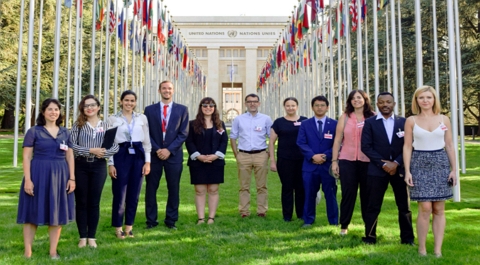 The United Nations Immersion Programme is now open for registration. This spring and summer, UNITAR is delighted to deliver three 5-day field visits to Geneva. The programme will offer participants the chance to fully immerse themselves into the host city of the main UN offices and thereby gain first-hand experience of the United Nations.   
Programme Description
UNITAR will host most of the activities in the headquarters of the UN at Geneva, the historic Palais des Nations. They will consist of a nuanced balance between the following elements:
Expert lectures.
Training workshops.
Multilateral conferences.
Private guided tours.
Career development sessions
The Programme is aimed at equipping participants with knowledge and skills in diplomacy, empowering them to work more effectively and efficiently in any international environment. It further aspires to offer access to the UN's institutions and staff to build up networks and gain insights into future career steps. The United Nations Immersion Programme to Geneva serves to provide an overview of the United Nations. It will help participants build solid ground knowledge of themes and topics in international affairs, deliver training in core diplomatic skills.
Award Benefits
It is a Fully funded programme. Participants will also have the chance to opt for an Immersion Programme premium package. This includes the 4-weeks UN Young Leaders Online Training Programme as preparatory e-Learning course. It is implemented on the UNITAR online platform in the four weeks prior to the field visit and thereby sets the stage for their time at the UN.
Level and Discipline
This programme is open to any participant in any fields and career who are interested in UN activities.
Host Institutions
Activities will center around the following Geneva-based agencies:
United Nations Office at Geneva (UNOG)
United Nations High Commissioner for Human Rights (UNHCHR)
World Trade Organisation (WTO)
International Committee of the Red Cross (ICRC)
World Meteorological Organisation (WMO)
Programme Period
UNITAR offers the Immersion Programmes to Geneva in Spring and Summer editions, in May – August yearly.
Eligibility Criteria
Any interested parties in the programmes and activities of the UN are eligible to apply.
Registration
UNITAR warmly welcomes your participation and looks forward to receiving you in Geneva this spring and summer: In case that due to any COVID-19-related travel restrictions, participants registered for the field visit to Geneva are unable to travel to Switzerland this spring/summer, it is possible for them to attend the UN Young Leaders Online Training Programme free of charge. In addition, their slot for the field visit to Geneva will be automatically transferred to its next editions, with no additional costs charged.
Application Procedure
The United Nations Immersion Programme is generously packaged for three different dates. Kindly visit the official webpage and register using the link corresponding with the date most suitable for you.