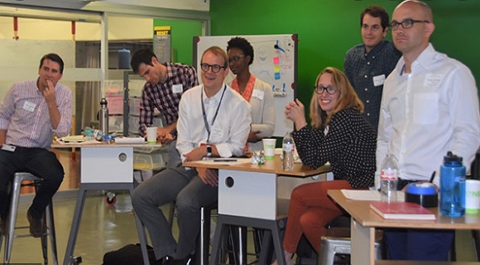 Are you ready to take your career in health technology innovation to the next level? The Stanford Biodesign Innovation Fellowships is a 10-month experience that has been packaged to equip aspiring innovators with a proven, repeatable process to identify important health-related needs, invent novel health technologies to address them (including medical devices, diagnostics, digital health, drug delivery, and biotechnology solutions), and prepare to implement those products into patient care through start-up, corporations, or other channels. In addition, the Innovation Fellows become part of the Stanford Biodesign community, which is a life-long, worldwide network of innovators passionate about improving healthcare.
Fellowship Description
The Stanford Biodesign Innovation Fellowships provide the most in-depth training experience in health technology innovation. All experiences are multidisciplinary involving hands-on health technology projects, with the help of Biodesign faculty and the industry experts.
See Also:  TWAS-BIOTEC Postdoctoral Fellowships, Thailand
Award Benefits
The Biodesign Innovation Fellowship is a launch pad for initiating, redirecting, or accelerating a career in health technology innovation. Stanford Biodesign graduates apply their talents to:
Catalyzing innovation inside major medical device, diagnostic, digital health, and biotechnology companies.
Building their own health technology start-ups.
Teaching and/or leading translational research programs for world-class universities.
Driving innovation initiatives within academic or private medical centers.
Becoming specialists in design, investing, or other aspects of the health technology innovation ecosystem
The fellows become part of the Stanford Biodesign community, a life-long, worldwide network of innovators passionate about improving healthcare.
Eligibility Criteria
The Biodesign fellowship is open to:
Individuals with advanced degrees and/or substantial work experience in the engineering, life sciences, computer science, business, product design, law, medical, or nursing fields to apply.
Fellows who have experience, passion, and drive, as well as potential to become leading innovators in the health tech field.
Applicants from any country.
Place of Fellowship
Stanford Biodesign Fellows become members of the Stanford Biodesign team at the James H. Clark Center on the Stanford University campus. Clinical immersion is completed at Stanford Health Care, as well as a variety of other settings across the continuum of care.
Fellowship Scope
The fellowship is a full-time, intensive experience that runs from the beginning of August through early June each year. Stanford Biodesign Innovation Fellows receive a monthly stipend and health benefits during their fellowship period.
Recommended:  Knight Hennessy Scholars Program – USA
Application Procedure
How-To-Apply: To apply for the Stanford Biodesign Innovation Fellowships, note that,
Applicants should review the questions and videos on the application page before applying with all the accompanying material and documents attached.
Your Essays will be used in combination with materials to review your application.
Applications for the fellowship will close on Friday, August 12.