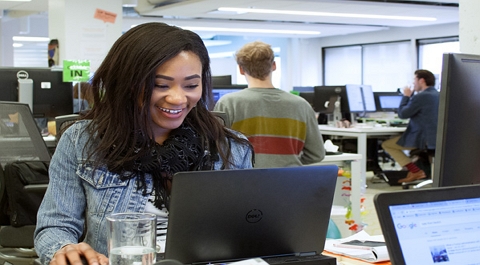 Application is currently open for the Acumen West Africa Fellows Program to all Emerging Social Leaders who are committed to tackling poverty and injustice on a long term. Their work should impact and empower individuals in the West African regional countries of Ghana, Liberia, Nigeria, Sierra Leone, and The Gambia. The programme opens opportunity for proactive engagement and exchange fellowship with and amongst other social leaders.
Fellowship Description
The Acumen West Africa Fellows Program is focused on empowering individuals tackling issues of poverty and injustice in West Africa. Acumen Academy is committed to equality, equity, diversity, and inclusion – we welcome and encourage applications from all social leaders whose work impacts any of the following countries in West Africa: Ghana, Liberia, Nigeria, Sierra Leone, and The Gambia.
Applications for other regions – East Africa, India, Colombia, Bangladesh, Malaysia, Pakistan, Spain, and the UK – will be opening later in the year. You ca stay updated on the Acumen Academy if your region do not currently have a Fellows Programme. The Academy will be expanding Acumen's work over the coming years.
See Also:  Hubert H. Humphrey Fellowship Program
Award Benefits
All admitted fellows will be fully funded through the programme.
Fellowship Sponsor
Acumen Academy.
Eligibility Criteria
The Acumen West Africa Fellows Program is designed for individuals who are deeply connected – and dedicated – to fighting poverty and injustice over the long run. Admission into the Acumen Fellowship community will require you to be committed to the following:
Full attendance of three in-person seminars and two online workshops that will be delivered between February 2023 to November 2023.
Full completion of the online work assignments and peer coaching sessions assigned between seminars.
Proactive engagement and exchange with the global Acumen Fellows during, and upon completing the first year of the Fellowship Program.
Also Check:  20+ Fully Funded Exchange Programs in USA
Application and Selection Criteria
Closing date: 12 July 2022.
The status of your application will be shared by: 9 August 2022.
This online application consists of:
Section 1: Your Profile – understanding your background and relationship with West Africa.
Section 2: Your Current and Past Work – understanding your current work tackling poverty & injustice, and your past work and experiences.
Section 3: Your relationship with Acumen Academy.
Section 4: Personal Questions – understanding who you are, your reasons for applying to this programme, and your vision.
Section 5: Some Additional Questions – understanding how you heard about the Fellowship and how we can share more about our work in West Africa.
Section 6: Terms and Conditions – your commitment going forward.
Reviewed the Applicant Packet  before applying.
Can you make the key dates for the selection process and program? This includes:
The Selection Conference (virtual): 11 & 12 November 2022.
Immersive 1: 21 – 26 February 2023.
Virtual Workshop 1: Three hours every Tuesday from 27 March – 2 May 202.
Immersive 2: 20 – 25 June 2023.
Virtual Workshop 2: Three hours every Tuesday from 24 July – 29 August 2023.
Immersive 3: 17 – 22 October 2023
Check the basic eligibility criteria outlined in the Applicant Packet.
This application requires you to be reflective so that we can learn more about you and the valuable work that you do. Regularly click "Save" so that you don't lose the nuggets of information you have written down.
Download and preview all the essay questions you will need to answer once you begin your application.
Learn more about Acumen Academy West Africa Fellowship.