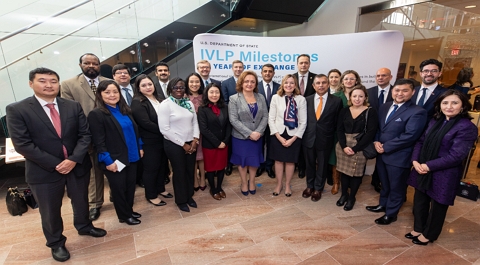 The International Visitor Leadership Program is now open for nominations to international visitors from foreign professionals. Are you an international staff working in the embassy or consulate of your country, a public servant, leader or a professional serving your home country internationally? Then this IVLP is for you. The IVLP is a fully funded international exchange program for one month by the U.S. Department of States.
Program Description
The International Visitor Leadership Program (IVLP) is the U.S. Department of State's premier professional exchange program. Through short-term visits to the United States, current and emerging foreign leaders in a variety of fields experience the U.S. firsthand and cultivate lasting relationships with their American counterparts. Professional meetings reflect the participants' professional interests and support the foreign policy goals of the United States.
Each year nearly 5,000 International Visitors come to the U.S. on the International Visitor Leadership Program (IVLP). More than 200,000 International Visitors have engaged with Americans through the IVLP, including more than 500 current or former Chiefs of State or Heads of Government.
See Also:  20+ Fully Funded Exchange Programs in USA
Program Duration
Up to 1 month
Award Benefits
Fully funded exchange program.
Cultural Assimilation.
Building international, inter-cultural and professional relationships.
Level and Areas of Engagement
International visitors who are professionals and leaders from diverse fields.
Program Sponsor
The United States Government
Eligibility Criteria
Eligible candidates should note that:
International Visitor Leadership Program does not need any application.
Participants are nominated and selected annually by the staff at U.S. Embassies around the world.
For those who live in the United States, there are many opportunities to get involved at the community level.
US residents can visit the Global Ties U.S. website for a list of community organizations in 44 states and information about local activities.
Check Also:  Government of Mexico Excellence Scholarships for Foreigners (Fully Funded)
Nomination Procedure
To get full details for this International Visitor Leadership Program, please use the below link to connect to the official webpage.
Since the details of the program may vary by country, select your home country or territory to get the specific details.