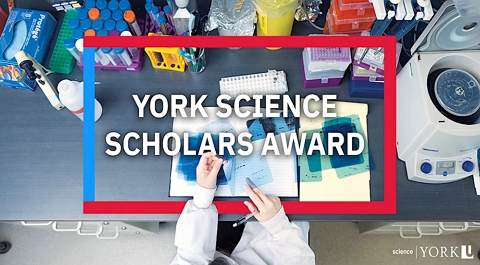 The York University's Faculty of Science invites applications for its prestigious York Science Scholars Award (YSSA) program.  In keeping with our vision of preparing global thinkers to advance knowledge and human progress, the Science Scholars program nurtures the intellectual and career development of high-achieving, passionate science students entering the faculty. Apply until March 1.
Description | York Science Scholars Award Program
The York Science Scholars program provides up to 25 first-year entering students with awards worth $10,000 each.  This Faculty of Science award is considered separately and in addition to any other York University or Faculty of Science admissions awards and scholarships.
Award Benefits
The York Science Scholars Award of $10,000 is provided in two parts:
$5,000 as an entrance scholarship.
$5,000 as a guaranteed summer research position following the first year of study
See Also:  University of Winnipeg International Entrance Awards
Level and Areas of Study
Entry level in the Faculty of Science
Place of Study
York University, Ontario, Canada
Eligibility Criteria
All students, Canadian and International, who have applied for entrance to the York University Faculty of Science for full-time study starting in Fall are eligible to apply for this program.
Newly enrolled first-year Faculty of Science students are not eligible to receive this award.
$5,000 Entrance Scholarship: Upon enrolment and registration in the York University's Faculty of Science, the entrance scholarship will be credited to the student's account.
$5,000 Paid Summer Research Placement: In the winter term (January) of their first year, students will be matched with a summer research placement based on factors such as their area of study, research opportunities, and preferences. The summer position will pay $5,000 and upon completion of the summer placement, the funds will be credited to the recipient's tuition account.
Student must maintain a B+ average to retain their $5,000 paid summer research placement.
Also Check:  University of Chicago Merit-Based Scholarships
Application Procedure
Given the prestige of the York Science Scholars program, its $10,000 financial component, and, perhaps most significantly, the experience provided by the summer placement, applicants to the York Science Scholars program have very competitive applications.
Please begin the process of putting your application together very early.
You may submit your application prior to receiving an offer of admission to York University's Faculty of Science.
Your Science Scholar Award application is assessed in parallel to your application to the Faculty of Science.
Submit YSSA applications directly to the Faculty of Science either digitally or in hard copy before deadline.
Steps to application:
Complete the application form through the online portal.
Write your personal statements
Find at least two references. Only one can be an academic reference (teacher).
We encourage your referees to submit their form digitally by emailing science@yorku.ca no later than March 1.
Prepare your resume
Submit your application!
Applications for the York Science Scholars Award closes March 1.