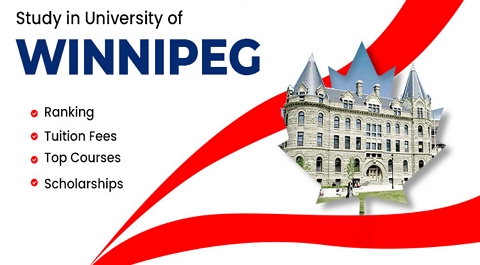 The University of Winnipeg offers a variety of financial supports for your post-secondary and Graduate education through its International Entrance Awards. These awards are specifically and automatically applied to new students beginning their journey here. We would like to direct your attention to the various entrance awards that are on offer available here to study in Canada.
Scholarship Descriptions
University of Winnipeg International Entrance Awards | Some Entrance awards are automatically applied based on students' admission average; others will require an application. Students who are successful in receiving an application-required entrance award must register for classes in the session for which the award was offered. Only the Special Entrance Scholarship can be deferred for one year.
Application-Required Entrance Scholarships: These scholarships are for all students who are new to The University of Winnipeg and have not taken credits or completed a degree here before. New students can be entering any of the University's divisions for the first time – Undergraduate, Graduate, Collegiate, Professional, Applied and Continuing Education (PACE) or English Language Program (ELP).
How to apply: fill out an online application.
Deadline: March 1, 2023 for academic year 2023-24
Value: Ranges from $100 – $48,000
NOTE: International students wishing to study abroad may apply for the President's Scholarship for World Leaders.
See Also:  UBC Sauder Scholarships for International Students (Fully Funded)
The Special Entrance Scholarships: Are automatically offered to Grade 12 graduating students coming directly from a high school in Canada, and to international students from the United States to study in Canada, or those studying Canadian curriculum abroad. All new students are offered this award without the necessity of a scholarship application.
How to apply: complete your application for admission by the deadline. You will be automatically assessed for this scholarship. No additional steps are required.
Deadline: March 1, 2023 for academic year 2023-24
Scholarship Values:
85.0-89.9% – $1,100
90.0-94.9% – $1,750
95.0%+ – $2,250
Eligibility:
Students must have at least an 85% final Grade 12 award average, and
Submitted a complete application for admission including payment by March 1, and
Enroll in a minimum of 18 credit hours for the Fall/Winter, and
Have not received a UW Entrance award valued at more than $5,000.
International Special Entrance Scholarships: these are automatically offered to new international students entering studies at the UWinnipeg in the 2022-23 academic year following graduation from a high school outside of Canada. These entrance scholarships to study in Canada are offered automatically during the regular admissions application process; a separate scholarship application is not required. All international students must meet the conditions below to qualify.
How to apply: complete your application for admission by the specified deadline and you will be automatically assessed for this scholarship. No additional steps are required.
Deadlines:
Fall 2023, March 11, 2023
Winter 2024, September 15, 2023
Spring 2024, February 1, 2024
Scholarship Values:
85.0-89.9% – $1,000
90.0-94.9% – $2,000
95.0%+ – $3,000
Eligibility Criteria
Have a minimum 85% grade average from the grade 12 high school courses used for general admission.
Submit a UWinnipeg admission application no more than 6 months following high school graduation.
Submit a completed application for admission, including all application fees and all supporting documentation, no later than the award eligibility deadline for the desired first term of study.
Have not have been selected for other UWinnipeg entrance awards. New international students with multiple UWinnipeg award offers will receive one entrance award, whichever has the greatest value.
Once selected to receive an International Special Entrance Scholarship, students must register for the following minimum number of credit hours according to their first term of study:
Also Check:  Swedish Institute Scholarships for Globa Professionals
The Dr. Douglas W. Leatherdale Global Citizen Internships: Assist students to enhance their degree programs with credits they obtain through international studies in Human Rights and Global Studies, including any of the major areas represented by the Institutes of Global College.
The Internships are available to University of Winnipeg students wishing to study abroad, and also to international students to pursue their studies at The University of Winnipeg.
How to Apply: download the PDF application
Deadline: Apply yearly.