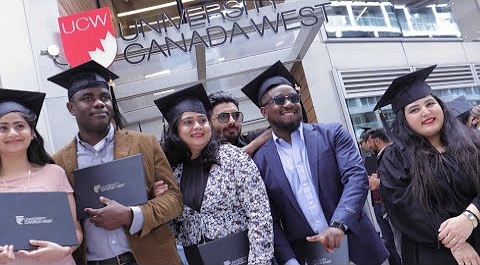 The University Canada West, UCW Awards and Scholarships, and grants are available to new students applying to a UCW undergraduate or graduate program. Students must be currently studying at UCW to be eligible for these awards and scholarships, or to apply for continuing student Awards.
A student can receive only one (1) award, scholarship, grant or continuing student award if eligible.
Awards Descriptions
The UCW Awards and Scholarships are available to new students approved for admission to either undergraduate or graduate programs at UCW.
Admitted students can receive only ONE (1) entrance award. A student will receive the award with the highest value if he is eligible for multiple automatically awarded awards,
Students taking Online Programs are not eligible for these awards.
Applicants with conditional offers are not eligible to qualify for an award until they fulfill the conditions for full (i.e. unconditional) admission.
Award recipients are expected to act as ambassadors for UCW and participate in outreach and alumni engagement initiatives.
All awards are disbursed as tuition credit.
New Student Orientation (NSO), ENGL 080, and any repeat course attempts are not eligible courses for disbursal payments (even if taken within the disbursal period).
See Also:  Listed Entrance Scholarships in Canada
Some of the Entrance Awards
Pathway To Knowledge Bursary
Scholarships for Academic Excellence
Americas Grant
Americas Tuition
Commonwealth of Independent States (CIS) Regional Grant
Canada 150 Tuition Concession for the Armed Forces
Middle East Regional Grant, and more.
Non-Automatic Awards | UCW Awards and Scholarships
The following are awarded through an application process (i.e. non-automatically):
The Emily Baker Scholarship.
University of Canada West Founder's Scholarship.
MBA Foundation Study Grant.
The award application forms for non-automatic UCW Awards and Scholarships can be downloaded using the following links:
Award applications must be received a minimum 30-days before the applicant's program start date.
Award applications must be complete to be considered as meeting this deadline.
Award applications are not reviewed until after the applicant has been approved for admission.
Award applications are not reviewed until after all required documents have been received.
The Registrar's Office may request additional documents before determining an outcome for an award application.
Also Check:  University of Winnipeg International Entrance Awards
Continuing Students Awards
There is also the University Canada West Continuing Student Awards which are available to students currently studying either undergraduate or graduate programs at UCW.
Check through these UCW Awards and Scholarships Awards and Scholarships to see how you can support your education if you are seeking to study in Canada, and in particular at the University Canada West.