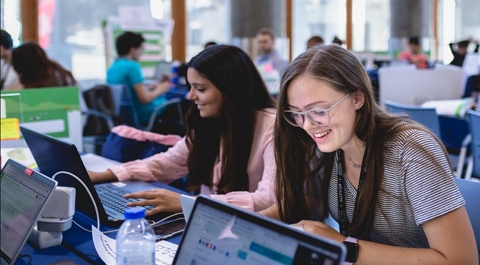 International Students can now enroll in the Top Canada Free Online Courses from top Canadian universities. This list of free online courses in Canada are for international students seeking to enroll in an Undergraduate, Graduate, or other non-degree courses. The online courses are indeed free but all certified. There are many language courses, Social and Humanity Studies, IT and Programming, Coding, and other courses available.
Courses Description
The Top Canada Free Online Courses from Canadian universities not only give you easy access to trainings, education and certifications you may find difficult to access, but can help you to get into Canadian universities easily. At the completion of these free online courses in Canada, international students will be able to get Certificates on programs of their choice from the convenience of their locations. A wide variety of courses across vocations, professions, industry and disciplines are offered by top Canadian Universities.
So, students can apply for any academic field, course of their choice for free without any application fees charged. Some Courses are short-term while others may be long-term depending on the content and program. Students are advised to browse through the Schedule of the free online courses available in any particular institution, the contents, requirement and duration applicable before they apply.
We will be giving a listing of the Top Canada Free Online Courses available from Top Canadian Universities and the link to access them. Feel free to explore, enroll, learn, develop capacity, innovate and create impact to the society.
See Also: Listed Entrance Scholarships in Canada
#1. University of British Columbia Online Courses
The Free online courses from the University of British Columbia are available in various subjects. UBC is a global center for research and teaching, ranking among the 40 best universities in the world. There are about 60 UBC Free Online courses open for application. Students will receive their verified certificate for a little fee.
#2. McGill University Free Online Courses
The McGill University offers Massive Open Online Courses (MOOC). MOOCs are open access and have unlimited participation from students in any part of the globe.
With two campuses, 11 Faculties, 11 professional schools, 300 programs of study, the McGill attracts some 39,000 students, from over 150 countries around the world.
You can also access it on: edX: https://www.edx.org/
Check: Malaysia International scholarships (Government Funded)
#3. McMaster University Free Online Courses
The McMaster's Massive Online Open Course (MOOC) has a partnership with online course provider Coursera. This initiative actually began in 2014.
#4. University of Toronto Free Online Courses
The University of Toronto's Free Online courses is available on a variety of subjects through edX. University of Toronto seem to attract students of the highest caliber through their Online Courses, with over 800 undergraduate programs, 150 graduate programs, and 40 professional programs.
#5. University of Alberta Free Online Courses
The University of Alberta, as one of Canada's top universities, is known for excellence in the areas of humanities, creative arts, business, sciences, engineering, and health sciences. The University proudly offers free open online courses to the community.
Also Recommended: Top-Paid Scholarships in Canada for International Students
We hope this list will satisfy your yearnings and search for affordable channels to advancing your education. Keep in touch with our page!