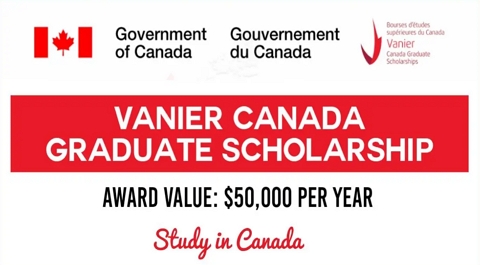 The Canadian Government annually invites Canadian and International students to a doctoral scholarship of Vanier Canada Graduate Scholarships Program. Up to 166 best candidates will be selected through the three Government approved awarding agencies to receive award values $50,000 each year.
Scholarship Description
The Government of Canada launched the Vanier Canada Graduate Scholarships (Vanier CGS) program in 2008 to strengthen Canada's ability to attract and retain world-class doctoral students and establish Canada as a global center of excellence in research and higher learning. Vanier Scholars demonstrate leadership skills and a high standard of scholarly achievement in graduate studies in the social sciences and/or humanities, natural sciences and/or engineering and health.
Scholarship Value
The winners of this award may expect to receive up to $50,000 per year for three years.
See Also:  Commonwealth PhD Scholarships for Least Developed Countries
Level and Area of Studies
Doctoral program in the field of Social sciences and humanities, science and engineering, health and leadership skills.
Place of Study
At any Canadian university.
Eligibility and Criteria
The basic requirements of this scholarship is that the candidates must be nominated by a Canadian university with a Vanier program allocation.
Further details of the candidates eligibility criteria can be read at the official application webpage.
Applicants Nationality
Canadian and other nationalities are eligible to apply.
Check Also:  British Chevening Scholarships for Master's Study
Application Procedure
Eligible candidates are usually nominated by the university at which they are enrolled to study. Candidates cannot apply directly to the Vanier CGS program. Please see the nomination process at the official website.
Application Window
July to November, yearly.