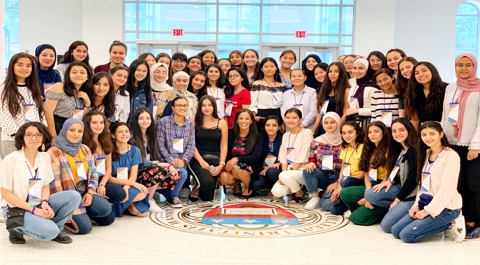 Applications are hereby invited for the TechGirls Exchange Program in USA from the next generation of women leaders who want to advance their skills and pursue their dreams in Science, Technology, Mathematics and Engineering. The participants will be supported with visa fee, airfare, accommodation, food, and health insurance. Interested candidates should apply now.
Program Details
The core of the program is a 25-day experience in the United States in partnership with Virginia Tech University. TechGirls participate in an interactive technology and computer camp, then virtually travel to one of the following cities (Austin, Chicago, Cincinnati, Denver, Detroit, or Seattle) for community and career explorations.
TechGirls is packed with skill-development workshops and interactions with America's most innovative tech professionals as well as 40 hours of study at a Tech Camp with our partner the Center for Enhancement in Engineering Diversity at Virginia Tech.
Check Also: International Excellence Scholarship at Arkansas Tech University
Program Benefits
Free visa fee
International airfare
Accommodation allowance
Meal tickets
Local transportation
Participation in cultural events by Legacy International
Emergency health insurance
Levels and Area of Study
The offer is for a leadership exchange program in STEM studies.
Place of Study
The program will be held at Virginia Tech University.
Eligibility Criteria
To be considered eligible for the TechGirls Exchange Program in USA, candidate must:
be a citizen and current resident of one of Sub-Saharan Africa (SA), East Asia and Pacific (EAP), Europe and Eurasia (EUR), Middle East and North Africa (MENA), South and Central Asia (SCA) or Western Hemisphere (WHA).

be between the ages of 15 and 17 at the start of the exchange.
have demonstrated advanced skills and a serious interest in technology, engineering, and/or math in their academic studies.
intend to pursue higher education and/or careers in technology.
have strong English language skills.
exhibit maturity, flexibility, and open-mindedness.
be willing to attend at least one additional semester of secondary school upon her return to her home country.
be committed to completing a follow-on project upon her return home.
preference will be given to those who have limited or no prior experience in the United States.
See Also: Generation Google Scholarship: For Women in Gaming
Application Procedure
Interested participants who wish to apply for TechGirls Exchange Program in USA must take the following steps:
Candidate must register an account on the official website.
Candidate must log into the account when applying.
Candidate must provide all required documents:

A passport photograph
Recent school transcript
Essay questions (8) required to be filled
Passport number (optional)
Submission Deadline: December 16.