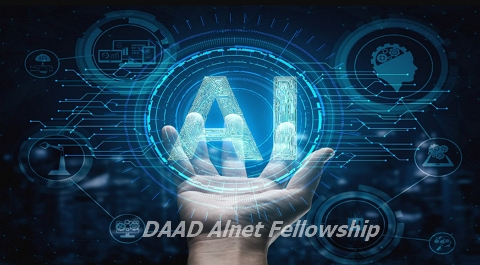 Applications are now being received for the DAAD Alnet Fellowship for Early-career Researchers in the field of Artificial Intelligence (AI). The participants are to get a comprehensive overview of German AI research landscape, get in touch with leading researchers in their respective fields for employments and collaborative opportunities and create long time ties with other fellows and the German AI research community. Intending fellows should apply now.
Fellowship Description
The DAAD Alnet Fellowship is awarded twice a year to a group of international early-career researchers in the field of Artificial Intelligence. Awardees will be invited to the Postdoctoral Networking Tour in Artificial Intelligence (Postdoc-Net-Al), a two-step networking program that offers participants great opportunity to have a face-to-face interaction with  German leading researchers.
The aim of this program is to initiate new collaborations, create new research and career opportunities. In addition, awardees will be included in the DAAD Alnet Fellows and Alumni Network , offering long access to German AI research and bringing together bright minds from around the World.
The Networking Week usually take place in October yearly. In addition to the virtual networking week, the DAAD will cover the costs of an individually planned one-week trip to Germany for each successful candidate to visit research institutions on site.
Check Also: IASS Fellowship Programme in Germany
Program Benefits
Opportunity to learn from experts
Get to know German AI research networking system
Get individual advice and exclusive funding opportunities from DAAD
Take the chance of one-on-one meetings with top researchers from host institutions
Obtain travel stipend to the German Institution
Stay connected to the DAAD and former fellows
Level and Areas of Study
The DAAD Alnet Fellowship is a non-degree programme for postdoctorates in the field of Artificial Intelligence (AI).
Place of Study
The fellowship is to be held at German AI Institutions.
See Also: Vector Scholarships in Artificial Intelligence
Eligibility Criteria
In order to be eligible for the DAAD Alnet Fellowship for Early-career researchers, candidates should have:
 a very strong scientific track record evidenced by relevant publications and/or academic accomplishments;
obtained a PhD/doctorate no longer than 5 years ago – PhD/doctorate candidates should be in their final year before their defense;
experience (or at least demonstrated interest) in the host institutions

' areas of research;

not been affiliated with a German institution during the last two years.
Application Procedure
Applicantions for the DAAD Alnet Fellowship should done online through the official website.
The submission deadline for this offer is on Updated yearly.