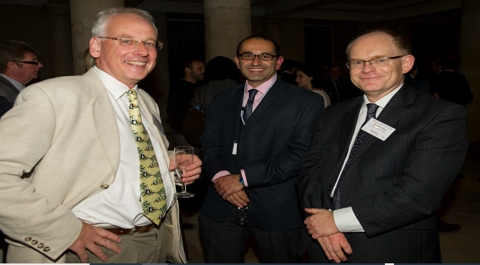 Applications are now welcome from the Senior Research Engineers in the academia for appointments into the Academy's Research Chairs and Senior Research Fellowships in the UK Universities and other internationally renowned centres of excellence.
The Royal Academy of Engineering Research Chairs and Senior Fellowships Scheme has successfully supported numerous academic appointments in the UK centres of excellence over the years, and normally runs for five years.
Award Descriptions
This Royal Academy of Engineering Research Chairs and Senior Research Fellowships scheme aims to strengthen the links between industry and academia by supporting exceptional academics in UK universities to undertake use-inspired research that meets the needs of the industrial partners.
The Royal Academy of Engineering is committed to diversity and inclusion and welcomes applications from all under-represented groups across engineering. It is the Academy's policy to ensure that no applicant is disadvantaged or receives less favourable treatment because of age, disability, gender reassignment, marriage and civil partnership, pregnancy and maternity, race, religion or belief, sex or sexual orientation.
We would like to support you to achieve a balance between your personal and work demands. We are happy to discuss individual requirements and consider part time and other flexible working arrangements.
Award Value
the Academy's contribution will be capped at a maximum of £45k per annum which equates to a total of £225k over five years.
Level and Area of Studies
Professors, Readers and Lecturers or equivalents in any engineering field.
Place of Appointment
In UK Universities.
See also: Pasteur-Roux-Cantarini Postdoctoral Fellowships in France
Eligibility Criteria
Awards can only be held at UK universities.
All such awards made in this round must start on 1 September.
Research Chairs are professorial appointments, so applicants should already be a professor or equivalent.
Senior Research Fellowships are senior academic appointments, so applicants should already be a Reader or Lecturer level or equivalent.
Applicants should be able to demonstrate an outstanding research profile including a proven track record in securing external grant income (RCUK, EU, industry, charities, etc) and developing collaborations.
Applications are welcome from any engineering discipline.
The duration of an award is five years, normally on a full-time basis. The industrial sponsor must commit to fund the entire five-year period.
The industrial sponsor must have a significant base in the UK. No more than a maximum of two industrial sponsors per application would be allowable.
Access Mentoring support 
The Academy also makes provision for additional support to applicants from persistently underrepresented groups within UK engineering community.
To be eligible for Access Mentoring Research Chair and Senior Research Fellowships applicants must be either a woman or from a Black, Asian or minority ethnic background.
Applicants' Nationality
There is no nationality restriction.
Submission Deadline
Please anticipate in March annually.
Application Procedures
Applicants must first:
discuss their proposal with their Dean/Pro Vice-Chancellor, the research grants office and the industrial co-sponsor before submitting an application.
register with the system and create a profile before filling the Application Form via Online Grant System.