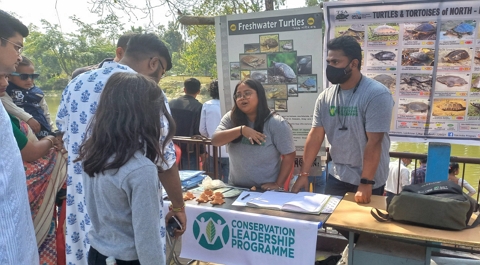 The Conservation Leadership Programme for Future Conservationist is now accepting applications to the 2023 Team Awards. The awards target exceptional teams of early-career conservationists leading high-priority projects across the world.
Awards Descriptions
The CLP Team Awards are a competitive process through which CLP aims to identify, recognise and empower rising stars in conservation, who work mainly in the developing world.
The Conservation Leadership Programme for Future Conservationists Awards are granted to teams undertaking high-priority projects that involve not just research but also practical actions and community outreach to promote pro-conservation attitudes and achieve tangible, effective and long-lasting conservation solutions.
Through the online application portal, eligible applicants can apply for one of three types of awards:
Future Conservationist Awards (up to $15,000 for projects 3-12 months in length)
Conservation Follow-Up Awards (up to $25,000 for projects up to two years in length; available only to previous recipients of a Future Conservationist Award)
Conservation Leadership Awards (up to $50,000 for projects up to three years in length; available only to previous recipients of a Follow-Up Award).
See Also: Edge of Existence Fellowships for Africa Future Conservation Leaders
Award Benefits
The award-winning teams will benefit from a project grant as well as global recognition for their exceptional work in conservation.
All team members will have opportunities to build connections with peers and access expert mentorship through the CLP Alumni Network (comprising almost 3,000 past recipients around the world); CLP partner organisations; and the CLP Management Team.
Individuals from winning teams are also invited to participate in international, regional and online training courses to develop their conservation knowledge and skills.
The international Conservation Management & Leadership (CML) workshop is particularly renowned among CLP alumni.
This course offers training in essential topics for rising conservation leaders, such as Creative Leadership for Conservation, Fundraising & Project Planning, and Behaviour Change, enabling them to build on the knowledge and skills that will underpin their future careers as conservation leaders.
Moreover, by bringing participants together from around the world, the workshop provides an opportunity to form valuable connections with other early-career conservationists.
Offers more opportunities for funding, training and learning exchanges.
Check Also: Yale Emerging Climate Leaders Fellowship in USA
Application Procedure
How-To-Apply: To apply for the Conservation Leadership Programme for Future Conservationist awards, eligible applicants should note that:
Applications must be submitted using the online platform by 10 October 2022.
CLP alumni applying for Continuation Awards must submit a Logical Framework by 4 September and, if this is approved, they must submit a full application by the 10 October
Once you submit your application, the CLP Management Team reviews to check that both the project and team meet the eligibility criteria for funding (Stage 1).
If your application is eligible, it will then pass to Stage 2 during which it will be reviewed by conservation experts who will score your project proposal based on its feasibility, contribution to conservation, and capacity development of the teams.
During the third and final stage, the CLP Awards Selection Committee will decide on the winning projects.