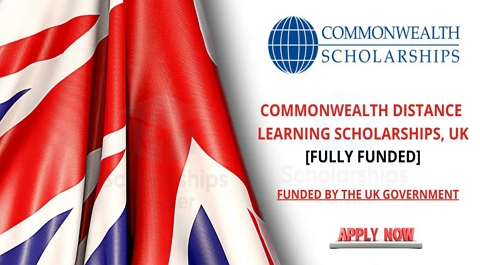 Applications for the Commonwealth Distance Learning Scholarships for Master's Studies are now being welcome. Are you from the low- and middle-income Commonwealth countries, seeking to undertake a part-time taught Master's study with UK universities while remaining in your home country? Apply for this scholarship. The scholarship is fully funded by the UK government.
Scholarship Description
The Commonwealth Distance Learning Scholarships for Master's Studies program is one of three Master's programs offered by the Commonwealth Scholarships Commission.
The Commonwealth Scholarship Commission in the UK (CSC) provides the UK government scholarship scheme led by international development objectives. By attracting individuals with outstanding talent and identifiable potential from all backgrounds and supporting them to become leaders and innovators on returning to their home countries, the CSC's work combines sustainable development with the UK national interest and provides opportunities for international partnerships and collaboration.
This Commonwealth Scholarship program is aimed at helping talented and motivated individuals to access training and skills required for sustainable development not available in their home countries.
Award Value
Full funding.
See Also: Commonwealth Scholarships and Fellowships to Study in UK
Sponsor
UK Government.
Level and Discipline
Master's study programs in areas supporting sustainable development initiatives.
Place of Study
The program will be taken at UK universities.
Eligibility Criteria
To be eligible for a Commonwealth Distance Learning Scholarships, candidates should:
Be a citizen of or have been granted refugee status by an eligible Commonwealth country, or be a British Protected Person.
Be permanently resident in a developing Commonwealth country.
Hold a first degree of at least upper second class (2:1) standard. A lower qualification and sufficient relevant experience may be considered in certain cases.
Be unable to afford to study the program without this scholarship.
Be talented individuals who have the potential to make change.
Eligible Countries
The list of eligible countries below as stated in the DAC list published in January 2022 are:
Bangladesh, Belize, Botswana, Cameroon, Dominica, Eswatini, Fiji, Gabon, The Gambia, Ghana, Grenada, Guyana, India, Jamaica, Kenya, Kiribati, Lesotho, Malawi, Malaysia, Maldives, Mauritius, Montserrat, Mozambique, Namibia, Nauru, Nigeria, Pakistan, Papua New Guinea, Rwanda, Saint Helena, Saint Lucia, Saint Vincent and the Grenadines, Samoa, Sierra Leone, Solomon Islands, South Africa, Sri Lanka, Tanzania, Togo, Tonga, Tuvalu, Uganda, Vanuatu, Zambia
Also Check: British Council Great Scholarships to Study in UK
Application Procedure
How-To-Apply: Applications for Commonwealth Distance Learning Scholarships are accepted through the online application system.
Candidates must apply and secure admission to study an approved Master's course at a participating UK university in addition to applying for a Commonwealth Distance Learning Scholarship via the CSC's online application system.
Candidates can apply for more than one course and to more than one university.
Candidates are advised to complete and submit their Commonwealth Distance Learning Scholarship application as early as possible as the CSC's online application system will be very busy in the days leading up to the application deadline.
Applications for the Commonwealth Distance Learning Scholarships must include these supporting documentation uploaded with the application:
Proof that the applicant is a citizen or has refugee status in an eligible Commonwealth country: a copy of a valid passport (or national ID card) showing a photograph, date of birth, and country of citizenship.
Full transcripts detailing all higher education qualifications, including to-date transcripts for any courses currently being studied, with certified translations if not in English.
References from at least two individuals, on institutional letterhead or an email clearly showing the sender's details.
Application Deadline: The closing date for applications is 28 March.