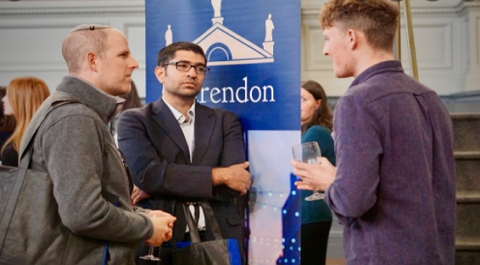 Are you looking for the opportunity to join one of the most active, highly international, and multidisciplinary communities at Oxford? Then apply for Clarendon scholarships at Oxford. They are competitive, prestigious and highly sought-after.
Like all fully-funded Oxford scholarships, Clarendon covers course fees, and provides a generous grant for living expenses to help reduce the financial barriers that may stand in the way of the best students, from across the world, coming to study at Oxford.
Scholarship Description
Clarendon scholarships at Oxford is aimed to assist academically outstanding graduate students through their studies at the University of Oxford. Every year, Clarendon offers over 160 new scholarships. At any one point, there are nearly 500 on-course scholars at Oxford making Clarendon the University's largest scholarship scheme.
There are no quotas by nationality or degree level. Every student who submits their application by the relevant January deadline for their course will automatically be considered. The majority of Clarendon scholars are working towards a DPhil, Oxford's name for a PhD. Scholarships are also awarded for two-year graduate degrees, such as the MPhil or BPhil, or one-year degrees, such as MSc, MSt, MBA or MFE.
Award Benefits
It is fully funded.
The brightest and best minds are selected, supported and nurtured to make them future leaders in any given field.
Place of Study
Oxford University, England, UK
See Also: Oxford-Radcliffe Graduate Scholarships in UK
Eligibility Criteria
Selection criteria vary slightly depending on the subject area and whether applicants apply for a taught or research degree, but generally on the basis of:
An excellent academic record is essential.
Applicant's future academic potential and aptitude of the proposed course of study.
Students Motivation: which is assessed through evidence of the applicant's commitment to the proposed course as well as evaluation of the personal statement and the referees' reports.
Scholars from across the colleges in the University
All Nationalities from across the world are eligible.
Candidates applying to start a new DPhil or Master's course at Oxford are eligible. This includes students who are currently studying for a Master's degree at Oxford but who will be re-applying for a DPhil or applying for a second Master's course.
Application Procedure
By applying for graduate study, you will automatically be considered for a Clarendon scholarship. You do not need to submit any additional documents and there are no separate scholarship application forms for Clarendon Scholarships at Oxford. You must apply by the December or January admissions deadline, whichever is relevant to your course.
Also Check: Swedish Institute Scholarship for Global Professionals