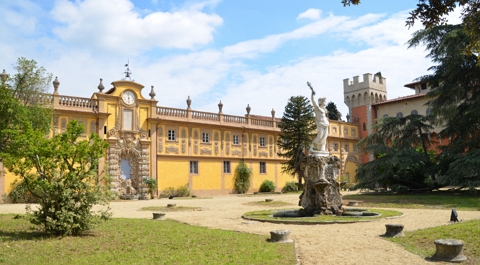 The Young African Leadership Programme is open for application to mid-career, high potential policy-makers, diplomats, and professionals from Africa. This programme is funded by the European Commission. It is a tailor-made fellowship and training programme aimed at catalysing and fostering changes as envisioned in the Africa Agenda 2063 and in the Africa-EU Partnership. After a pilot cohort in Autumn 2021, the subsequent cohorts of Young African Leaders are expected in Florence in September yearly. Fellowships are fully-funded with a grant of € 2,500 per month.
Fellowship Description
The Young African Leadership Programme is a fellowship scheme that provides a unique opportunity for policy experts from Africa (all regions) to further develop their policy work and professional and leadership skills amidst international experts.
The Programme aims at creating new networks, connecting a strong cohort of leaders committed to driving change in their own countries and across the continent, as well as address the gender gaps and foster inclusivity in leadership roles.
In the dynamic academic environment of the European University Institute (EUI) in Florence, selected participants will take part in workshops, training and skills development sessions, conferences, and study visits in Europe. Interaction with the other fellows, policymakers and the academic community at the EUI will make this a truly unforgettable experience.
Recommended: University of Padua International Scholarships
The structure of the Programme will be as follows:
Executive Training Seminars on thematic issues;
Professional Development Workshops, providing a set of leadership skills, tools and concrete case studies;
Study Visits to EU institutions, relevant academia, and international organisations
Final individual written assignment.
Award of the YALP certificate of attendance.
Connection to network of scholars and practitioners knowledgeable in relevant transnational governance.
Award Benefits
The three-month Young African Leadership Programme takes place from the 1 September to the 30 November yearly.
Fellowships are fully-funded with a grant of € 2,500 per month.
The selected African fellows must live in the area of Florence for the duration of their stay.
The language of the Programme is English. Where possible, the STG will seek to integrate French.
The Programme has an intensive training schedule, and is therefore a full-time and fully-funded fellowship scheme.
Place of Study
European University Institute (EUI) in Florence, Italy.
Eligibility Criteria
The Young African Leadership Programme targets:
Mid-career, high potential policy-makers, diplomats, and professionals from Africa, working in national and local authorities, regional, continental, international organisations and development partners, civil society organisations, academia, media and private sector, in Africa.
Professionals (M/F/X), mid-career and executives alike, who are nationals of African countries, residing in Africa and are up to the age of 35.
Applicants must be maximum 35 years old on the date of the start of the programme – (1 September) and currently residing in Africa.
Applicants up to 40 years old can be exceptionally considered, namely women and people with special needs.
Applicants that are women and from countries that were not included in the immediate past programme cohorts, to ensure geographical balance, will be given priority and favorable assessment.
Applicants must also:
Be fluent in written and spoken English.
Have at least seven years of relevant work experience.
There are other additional considerations for selection. Please read them up on the official application page to ensure you qualify.
See Also: Japan Africa Dream Scholarship Program
Application Procedure
To apply for the Young African Leadership Programme, please go to the official webpage to get all the necessary information you will need to guide you through the application process.
You can also apply directly through this link to the Online Application Form.