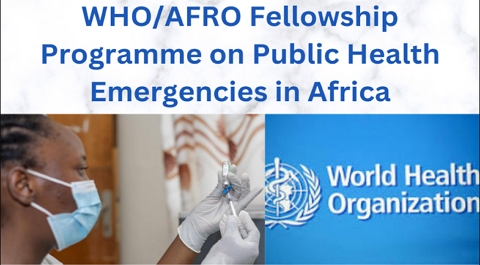 WHO/AFRO Fellowship Programme on Public Health Emergencies in Africa applications calling! The World Health Organization Regional Office for Africa (WHO AFRO) invites interested and eligible Master's or PhD/DPhil in Public Health or related areas candidates to submit applications for a fellowship programme on improving the management of public health emergencies in Africa under the COVID-19 Incident Management Support Team (IMST).
Description of the Fellowship
The WHO/AFRO Fellowship Programme became necessary since the COVID-19 pandemic continues to pose a challenge to health care systems, particularly in Africa. The gap between emergencies and public health management skills, leadership, policy, and research has become increasingly evident during the pandemic. Having well-prepared public health managers with the requisite skills to manage any pandemic is therefore critical for implementing a new public health order that will prepare Member States to promptly detect and effectively respond to public health threats.
Through a three-month WHO/AFRO Fellowship Programme, WHO AFRO seeks to support 15 aspirational Master's degree students, PhD fellows, and emergency public health managers and leaders (Fellows) in Africa in acquiring advanced skills and competencies for strategizing, managing and leading health programmes that will positively transform future public health emergency response on the continent.
The fellowship programme seeks to bridge the emergency public health management and research-to-policy gaps and produce well-equipped, versatile managers and leaders as required by the WHO Emergency Response Framework and the International Health Regulations (2005) for emergency response.
Fellowship Benefits
WHO AFRO will provide financial support to the fellows to cover tuition and research fees.
See Also:  Wellcome Trust Masters Fellowships in Public Health and Tropical Medicine
Number of Fellowship Awards
A total of 15 fellowships will be awarded to:
Five Master's degree students;
Five PhD students;
Five mid- and senior-level public health experts.
Eligibility Criteria
To qualify for the WHO/AFRO Fellowship Programme, candidates must meet the following criteria:
Be citizens of any WHO Member State working on COVID-19, with priority given to citizens of Member States of the WHO African Region.
Be registered in a Master's degree programme (Master's Fellows).
Be registered in a PhD programme (PhD/DPhil Fellows).
Be a full-time employee (in the public/private sector or academia) with a Master's degree or public health qualification or PhD (mid- or senior-level career Fellows).
Have professional experience in public health (One Health, medicine, health financing, health economics, health policy, animal health, social sciences, and environmental health).
Possess relevant experience that has contributed to the advancement of public health emergency management in Africa.
Demonstrate potential for effective public health management that can positively impact the health outcomes of populations.
Develop an achievable proposal that addresses strategic challenges for improving the management of public health emergencies on the continent.
Check Also:  Rotary Global Grants Scholarship Program
Application Procedure
How to apply: Candidates applying for the WHO/AFRO Fellowship Programme on Public Health Emergencies in Africa must present the following requirements:
A recent Curriculum Vitae.
Confirmation of registration in an academic institution (for Master's degree and PhD fellows).
Letter of employment (mid- and senior-level experts).
A 500-word motivation statement for the Master's degree students outlining their objectives and plan for the fellowship.
A 2000 – 3000-word proposal for all applicants (Master's, PhD students and mid-/senior-level experts) outlining the proposed project with the following section:

Introduction of the subject of research
Relevance and pertinence of the subject
Brief literature review on the subject
Objectives
Research plan and activities
Potential use of the outcomes of the research
Conclusion
Submission Deadline:
Applications are due by: 13 November.
EMAIL: whoafrofellowship@who.int