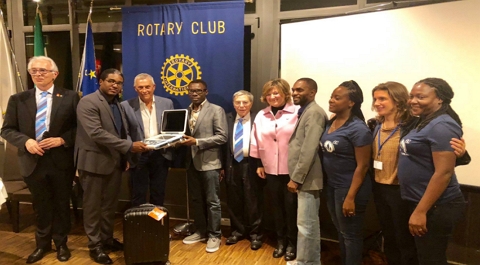 The Rotary Foundation funds scholarships with global grants and district grants. This post focuses on global grant scholarships. The minimum award value of the Rotary Global Grants Scholarship is $30,000. This value which can be scaled up depending on need will fund Passport/Visa, travel expenses, school items, household items and also cover other living expenses. Applications from interested students are still ongoing.
Scholarship Description
Rotary Global grants support large international activities with sustainable, measurable outcomes in Rotary's area of focus. By working together to respond to real community needs, clubs and districts strengthen their global partnerships.
With a minimum budget of $30,000 and a maximum World Fund award of $400,000, the grants fund humanitarian projects, scholarships for graduate-level academic studies, and vocational training teams, which are groups of professionals who travel abroad either to teach local professionals about their field or to learn more about it themselves. The scholarship is awarded for a graduate-level coursework or research for one to four academic years.
Check Also: University of Bologna Study Grant for International Students
Award Benefits
The minimum budget for a Rotary global grants scholarship is $30,000 which can fund the following:
Passport/visa
Inoculations
Travel expenses
School supplies
Tuition fees
Accommodation
Household supplies
Language training courses
Level and Areas of Study
Graduate-level coursework or research in one of Rotary's six areas of focus: Basic education and literacy, Disease prevention and treatment, Peace and conflict prevention/resolution, Maternal and child health, Water and sanitation, and Economic and community development.
Place of Study
Any approved University located in a country where there is a host Rotary club or district, outside of the applicant's home country.
Eligibility Criteria
For the eligibility requirements, please refer to the scholarship page of the Rotary Club/District's where you intend to apply.
See Also: Fully Funded French Government Scholarships
Application Procedure
Global grant applications are submitted in the Grant Center. The sponsor clubs or districts create the
initial application, where they will add the scholarship candidate's name and email address and click
"Notify Scholarship Candidate." The scholarship candidate will receive an email instructing them to create
a My Rotary account, and then complete the scholar profile in the Grant Center.
Submission Deadline:
Applications accepted on a rolling basis. Each Rotary Club/District may have its own specific timeline.