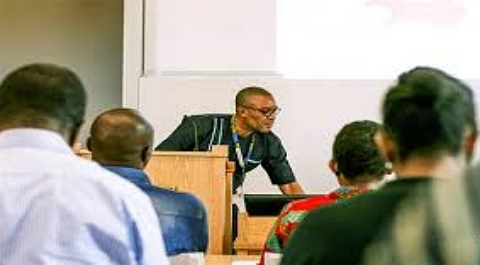 University of Michigan African Presidential Scholars Program calls for applications from faculty members of colleges and universities from Africa. The recipient scholars are to be fully funded to the U.S. to enhance the learning and research skills in their respective fields of study. Applications are ongoing until second week into October.
Program Details
The University of Michigan African Presidential Scholars (UMAPS) Program is designed to encourage the development of the next African scholars via their integration into international academic networks, and promotes University of Michigan's international commitment to research and teaching collaborations across diverse disciplines.
The UMAPS program hosts two cohorts per year—August through December, and January through May—with one application round for both cohorts. Applicants will have the opportunity to indicate their preference for a particular cohort during the application process.
See Also: Africa Research Excellence Fund Fellowship (up to £40,000)
Award Benefits
The scholars will be fully funded to the US.
Level and Areas of Study
The Program is for postgraduates across diverse disciplines.
Place of Study
The Fellowship is to take place at University of Michigan in U.S.A.
Eligibility Criteria
To be eligible for the UMAPS Program, applicants must:
Be an early career faculty member who has taught in the higher education system for less than ten years, and who is presently teaching in a college or university in Africa.
Be employed in an ongoing position at a university or college in Africa.
Be able to demonstrate support from a home institution with a letter of recommendation from the head of department, dean, or vice chancellor.
Be able to remain in residence for five months.
Check Also: ASC Leiden Visiting Fellowship for Africans
Application Procedure
For applicants from outside Angola, Botswana, Ethiopia, Ghana, Kenya, Malawi, Mozambique, Nigeria, Rwanda, South Africa, or Uganda, nomination is required and needs to be completed by a U-M faculty member familiar with the work of the prospective applicant. The nominating faculty must:
Complete the nomination form (for University of Michigan faculty only and access requires U-M login).
Submit /upload a letter of endorsement that indicates their willingness to serve as a mentor during the length of the residency, commit to meet regularly, and if possible provide an office space for the prospective participant.
As soon as the complete nomination form and letter of support is received, a link to the application portal will be sent through email invitation to the nominated applicant.
All applicants must:
Complete the application form (this link can only be used by applicants from the following countries: Angola, Botswana, Ethiopia, Ghana, Kenya, Malawi, Mozambique, Nigeria, Rwanda, South Africa,  and Uganda).
Upload a curriculum vitae using the online application.
Upload a scholarly program/research proposal (not to exceed five pages).
Provide complete name and contact information of the department head, dean, or vice chancellor at the applicant's home institution who will be writing their letter of support.
Submission Deadline: All applications should be submitted on or before 15th October.