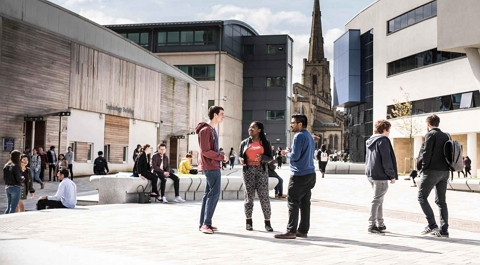 The University of Huddersfield Merit-based Scholarships are now open for applications to all international students wishing to undertake a study in any discipline or faculty of the school whether at undergraduate or postgraduate level. These merit scholarships can be automatically awarded, or may require some further proof of documentation to receive them.
Scholarship Description
Each year the University of Huddersfield welcomes students from a diverse range of backgrounds from all over the world seeking to study in the institution at different levels.
The University offers a variety of Huddersfield Merit-based Scholarships to provide extra financial assistance with the costs of study to eligible students.
Award Value
The University of Huddersfield, recognises academic excellence by offering Huddersfield Merit-based Scholarships of up to £4,000 to international students for a range of undergraduate and postgraduate courses.
See Also: Commonwealth Scholarships and Fellowships to Study in the UK
Level and Areas of Study
Undergraduate and Postgraduate study in any disciplines.
Place of Study
The University of Huddersfield, UK.
Eligibility Criteria
To be eligible for our Huddersfield Merit-based Scholarships, you must:
Be an international fee-paying student.
Be applying for a full-time taught undergraduate or postgraduate course.
Be fully self-funding your studies, this means you are not receiving any funding for your studies.
For postgraduate, you must have achieved a minimum 2.1 or equivalent in your undergraduate degree and must meet the English and academic entry requirements for your course.
Master's by Research programmes are not eligible for these scholarships. Please see our Research Scholarships.
Master's with placement in the Huddersfield Business School are not eligible for these scholarships. Master's with placement courses in the School of Computing and Engineering may be eligible, on conformation of academic achievement.
Conditions for the award of Huddersfield Merit-based Scholarships:
Students will be notified in their offer letter if they have been awarded a scholarship.
Eligible international students will be awarded the scholarship for every year of their course, excluding their placement year.
This scholarship will not be awarded alongside any other University of external scholarships.
Please check your offer letter for full details of the scholarship that you have been awarded and fees.
Check Also: UNSW Scholarships and Awards for Academic Achievement
Application Procedure
How to Apply: Just apply to study at the University as normal and you will automatically be considered if you meet the eligibility criteria for the Huddersfield Merit-based Scholarships.
For undergraduates, these scholarships are for strategic recruitment to important areas of research within the University. Fee waivers available to University Research Scholars are 15%, 25%, 50%, 75% and 100%. The decision will be made by the individual Schools and may be awarded to applicants whose proposal addresses one of the strategic research aims.
To apply please complete the online application form, marking it clearly with fee-waiver scholarship application.