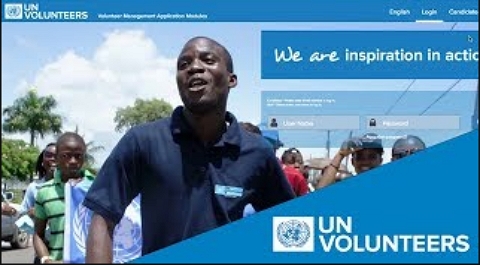 The Unite Nations in expanding its frontiers of operations globally has created the United Nations Volunteers, a Global Opportunities platform for young, talented and experienced professionals to contribute to developmental activities at the frontlines. Candidates are directly matched with available assignments across the globe based on their profiles and areas of interest. Do you want to start a career with the UN by volunteerism? Apply now!
Volunteer Opportunities
The UN regularly publishes selected volunteer opportunities. Candidates must first create their profile in the United Nations Volunteer Global Talent Pool via our Unified Volunteering Platform to apply. Some assignments are not published because they are filled by candidates whose profiles are matched directly from our Global Talent Pool. Some sponsored assignments may have additional eligibility criteria, which you will find in the PDF file linked to the special call.
UN Youth Volunteers are between 18 and 29 years old, and work with UN agencies on the frontlines of political, developmental and humanitarian operations.
Who are UN Youth Volunteers?
The UN Youth Volunteers are a separate category of United Nations Volunteers recently created in response to the United Nations Secretary-General's call for greater engagement in volunteerism of history's largest generation of people under 30. They help the United Nations, being one of the world's most important intergovernmental organizations, to fulfill its mission. These young volunteers are assigned to host United Nations agencies to work on the frontlines of political, developmental and humanitarian field operations. They are young people aged 18 to 29 years who want to engage in development and peace initiatives worldwide.
Benefits
United Nations Volunteers receive a basic living allowance that allows the volunteer to live healthily and safely in the assigned area. For those outside their home area, return airfare or land transport (as applicable) and some other basic costs are paid by the host agency.
You will receive orientation and training before and after your assignment.
See Also: International Rescue Committee Global Opportunities
Duration of Volunteers assignment
The length of assignment depends on the requesting entity's needs, but Volunteer assignments are between six and 24 months.
Eligibility Criteria
The educational background and experience required varies by assignment, but generally work experience over two years is not expected.
Because the United Nations Volunteers (UNV) program has built a reputation for recruiting and fielding the highest caliber volunteers that the world has to offer, no less is expected of UN Youth Volunteers. Eligible Volunteers should be:

Committed to global peace and development.
Motivated and enthusiastic.
Able to readily adapt to new cultures and situations.
Ready to dedicate between six and twenty-four months to the volunteer assignment.
An Asset to volunteering assignments.
Check Also: Wikimedia Community Fund | Research Funding for Positive Change
Application Procedure
All United Nations Volunteer assignments to volunteer abroad are advertised in the official website (under Special Calls for Volunteers). Please visit the Calls page, study the specific eligibility requirements for to find your suitability before you apply.