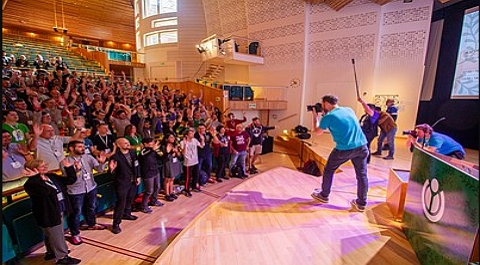 The Wikimedia Community Fund is sponsored by the Wikimedia Foundation which provides support to individuals, groups, organizations and affiliates around the world that are actively working on promoting knowledge equity in the Local Communities as aligned with the strategic direction of the Wikimedia movement.
Fund Description
The Wikimedia Community Fund broadly supports volunteer efforts in the movement, especially those that promote knowledge equity. Emphasis is on the need for underrepresented communities and historically marginalized communities in the movement to have access to resources they need to accomplish their goals.
The Wikimedia Community Fund has three general areas of support:
Rapid Fund: Short-term, low-cost projects by individuals, groups, or organizations contributing to Wikimedia projects. This program usually has 45 days processing time; average funding amount: 500 – 5,000 USD
Conference & Event Fund: Funding and planning support to groups, individuals or organizations to organize local, regional, and thematic conferences that bring together Wikimedians for experience sharing, skill building, and networking. This program has a 2 months processing time; average funding amount: 10,000 – 90,000 USD
General Support Fund: Flexible general operating support for individuals, groups, or affiliates that have developed larger projects or programs or a strategic plan requiring sustained investment over time to be able to achieve its goals. It has a 2 months processing time; average funding amount: 10,000 – 300,000 USD.
See Also: AWS Sustainable Cities Accelerator Program
Eligibility Criteria
The Wikimedia Community Fund applicants must meet the following basic criteria in order for their proposal to be reviewed:
Applicant must follow the Universal Code of Conduct and Friendly Space Policies.
Youth Safety Policy must be in place for any activity that involves underage community members.
Applicant is within a country that can legally receive funding for the described activities and expenses based on laws on sending and receiving funds in the United States and their country.
Applicant does not appear on the United States Department of Treasury Specially Designated Nationals and Blocked Persons List (SDN).
Applicants must be in compliance with all requirements and in good standing for any current activities funded through the Wikimedia Foundation.
Works and contributions must be able to be published under ethical, open access agreements.
Applications must be for future, planned work.
Proposed activities that meet the United States Internal Revenue Service definition of lobbying cannot be funded.
Applicants receiving funding must not be Wikimedia Foundation staff members or contractors working more than part time (more than 20 hours per week).
Proposals that fit certain criteria are not eligible for review in the Wikimedia Community Fund:
Proposals that are primarily focused on research activities should be submitted to the Wikimedia Research Fund.
Proposals that are primarily focused on software development should be submitted to the Wikimedia Technology Fund.
Eligible Current Wikimedia grant regions:
Middle East and Africa
South Asia
East, Southeast Asia, and Pacific (ESEAP)
Latin America (LATAM) and The Caribbean
United States and Canada
Northern and Western Europe
Central and Eastern Europe (CEE) and Central Asia
When to Apply
For General Support Fund: Individuals, groups, organizations, and affiliates interested in applying can do so at any time of the year.
Check Also: World Bank Join the Mission Recruitment Drive for Africa
Application Procedure
Before applying for the Wikimedia Community Fund, ensure:
All applicants reach out to their Regional Program Officer as they are developing their proposal and before submitting a final application – especially recommended for first time applicants.
Adequate Preparation by Regional Program Officer, including proactive communication and outreach about Funding Programs
Open Call for Funds are made, including office hours and program officer support for proposal development