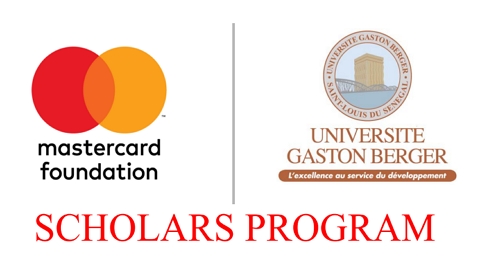 Gaston Berger University of Saint-Louis (UGB) invites applications from new graduates for the UGB Mastercard Foundation Scholarship Program. Deadline is October 31, 2022.
This MasterCard Scholarship is various capacity-building activities in addition to relevant and quality training in the fields of digital technology, agriculture, health and engineering. The program aims to facilitate the development of knowledge and experience of Fellows.
Scholarship Description
The UGB Mastercard Foundation Scholarship Program offers these young scholarship holders a full range of psycho-social assistance services, leadership training opportunities, as well as intensive support to facilitate their professional integration and their transition to dignified and rewarding employment, while allowing them to have a meaningful impact on the world around them.
Award Benefits
The MasterCard Foundation Scholarship Program allows beneficiaries to be followed throughout their journey by:
the organization of a welcome and orientation session;
the recruitment of tutors for remediation and support sessions for those who express the need;
support in the integration process;
training in soft skills;
psychosocial support;
support for a transition to employment (salaried employment or entrepreneurship);
the implementation of at least one community service program.
The scholarship holder receives a monthly allowance of 60,000 FCFA throughout the duration of his training.
Medical care.
Tuition and training fees
School supplies and teaching materials
Transportation
Accommodation and catering
See Also: ACECoR Scholarships for MPhil and PhD Programs for African Professionals
Level and Areas of Study
Graduate level in the fields of digital technology, agriculture, health and engineering.
Place of Study
Gaston Berger University in Saint-Louis, Senegal.
Eligibility Criteria
To be eligible for the UGB Mastercard Foundation Scholarship Program Program, the filing of physical files is compulsory for all candidates, Senegalese and foreigners alike.
Also Check: Wikimedia Community Fund | Research Funding for Positive Change
Application Procedure
The candidates are to apply as follows:
Download and print the application form
Complete it carefully by filling in all the information
Attach all required documents
Submit the duly completed form with all the required documents:
at the Scholarships Department, 52 rue Saint-Michel (ex Dr. Thèze), 1st floor, opposite Immeuble La Rotonde – Dakar – SENEGAL
at the mail office of the Rectorate of Gaston Berger University in Saint-Louis or at the UGB branch in Dakar, Sacré-Coeur Pyrotechnie, lot 138, Tel: 33 864 11 65.
It should also be noted that Senegalese baccalaureate holders are required to apply online by following the following steps:
Fill in all the required information of the online form
Validate the form
You are notified of the registration of your application
Please carefully read the application guide posted on the application site to follow all the
procedural steps.
Application Deadline: October 31, 2022.