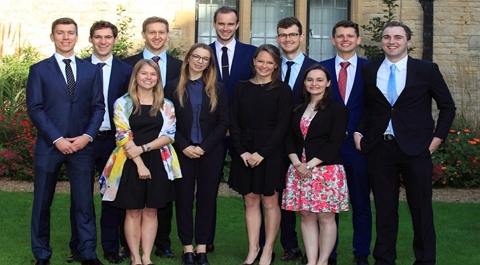 The Rhodes Scholarships Australia is open for application to students who are Australian citizens or permanent residents. This scholarship is a competitive merit-based award to very outstanding students to pursue their chosen course of study at the University of Oxford in UK, either at the Bachelors or Master's level. The scholarship value is of very high premium ranging from AUD 75,000 to AUD 125,000.
Scholarship Description
Each year, nine Rhodes Scholarships Australia are available for outstanding Australians to study at the University of Oxford. Of the nine scholarships available each year in Australia, each state offers one Scholarship that is awarded by a selection committee of seven members based in the state. In addition, there are three Australia-at-Large Scholarships awarded by a selection committee based in Canberra. This selection committee will consider applicants from the ACT and Northern Territory ('the Territories'), as well as those candidates nominated by state selection committees. Please note that applicants cannot apply directly to Australia-at-Large.
Each year, 100 Rhodes Scholars are selected from around 60 nominated countries around the world, with two Global Scholars selected from any other country.  There are now over 5,000 Rhodes Scholars worldwide, and alumni connections are growing.
Benefits | Rhodes Scholarships Australia
The Financial benefits range from AUD 75,000 to AUD 125,000 and includes the following
All Oxford University and College fees.
The University application fee.
A personal stipend (2020 £15,141 per annum).
Private health insurance.
One economy class airfare to Oxford at the start of the scholarship and one economy flight back to the student's home country at the conclusion of the scholarship.
See Also:  Oxford Rhodes Scholarships in UK
Level and Field of Study
Bachelors or Master's in Any Discipline.
Place of Study
University of Oxford, UK.
Eligibility Criteria
To be eligible to apply for the Rhodes Scholarships Australia, candidates must:
be Australian citizens or Permanent Residents;
have completed at least two years of schooling at an Australian secondary school;
upon 1 October 2023, be at least 18 and have not reached your 25th birthday (i.e. you must have been born after 1 October 1998 and on or before 1 October 2005) OR (for older candidates who completed their first undergraduate degree later than usual) you must have not reached your 27th birthday (i.e. have been born after 1 October 1996) AND you have met or will meet the requirements for completion of your first degree on or after 1 July 2022*;
have completed an Australian bachelors, honours, or master's degree or international equivalent with a proficiency level of first-class honours or an equivalent mark of distinction (masters or international qualification) by no later than 30 June 2024 (indicative GPA of >6.75/7 or WAM 80% or equivalent); and
meet the entry requirements for your proposed course at Oxford; and
have not applied for the Rhodes Scholarship more than once before (provided you were unsuccessful in the first attempt).
ANU students can apply through the Australian Territories panel to be considered for the Australia-at-Large scholarships, or can apply in the state in which they completed at least two years of secondary schooling, in which case you should contact that state panel for more information .  If you meet the eligibility criteria for more than one Rhodes Constituency, you must only apply to one. You should apply to the Rhodes Constituency with which you have the greatest connection.
Also Check:  UCL Scholarships and funding | Application Guide
Application Procedure
How-To-Apply: Applications closes on Friday 08 September 2023. In addition to the completed application form, candidates applying for the Rhodes Scholarships Australia need:
a birth certificate or passport confirming that you meet the age criterion.
any additional official documentation required to prove your Australian citizenship or permanent residency.
evidence you have completed at least two years of schooling at an Australian secondary school.
your academic record (including original academic transcripts).
an academic statement of study.
a personal statement.
a full curriculum vitae.
details of 5 referees (of which 3 are academic)
Shortlisting and interviews will be scheduled in October and November.
Steps to follow to apply for an Australia-at-Large Rhodes Scholarship:
Read the attached, detailed 'Information for Candidates' document
Read the information on the Rhodes House website. You'll see that the Application Form, Guidelines for Candidates and further details on the selection criteria and how to apply is also available on that site.
 View the Oxford University Graduate Studies Prospectus or Undergraduate Prospectus and information on admissions.
Contact the Territories Secretary to check your eligibility to apply for the Rhodes.