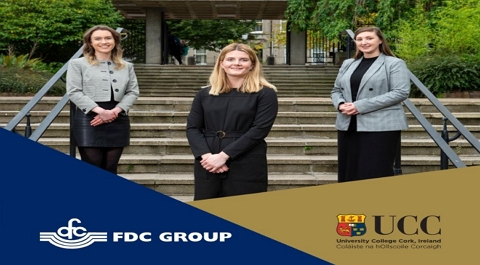 The University College Cork – Ireland is offering the FDC Group Scholarships or the Jack Murphy Scholarship. Only students of EU are welcome to apply. They must be applying for an MSc Programme at UCC. Entries must be submitted by 19th August.
Award Value
Up to €12,500 per successful applicant. Successful applicants must complete the placement element of the MSc programme with the FDC Group.
See Also: DAAD Master Study Scholarships in All Academic Disciplines
Level and Area of Studies
MSc in Co-operatives, Agri-Food, and Sustainable Development and/or the MSc in Management and Marketing.
Place of study
The University College Cork in Ireland.
Eligibility Criteria
To be considered for a competitive FDC Group Scholarships, you must meet the following criteria:
Students must secure a minimum Second-Class Honours Grade 1 in an approved primary degree or equivalent.
Students must have applied for one of the two applicable programmes via the UCC Applications System, have received an offer and have accepted a place on either programme to qualify to apply for the scholarship.
This Scholarship is open to all EU/UK students.
Check Also: Ireland-Africa Fellows Program (Fully Funded)
Application Procedure
How-To-Apply: Applications for the FDC Group Scholarships must:
Be made on the official application form and include name, contact details and qualifications with graduating institution(s).
Be submitted to Rachel Cotter rachelcotter@ucc.ie.
Include a short personal statement in response to the following (max 500 words per question):
Identify an important issue facing Rural Ireland at present and propose a concise strategy to address this.
Outline in what way you could contribute to the development of Rural Ireland given the challenges identified in question 1.
Finally, outline:
Your reason for applying and academic background.
Your previous achievements (academic or other notable achievements).
Your future career
Submission Deadline: August 19.