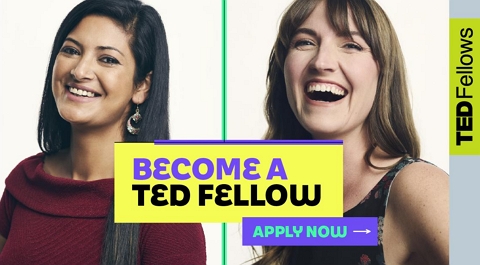 The TED Fellows Program is now open for applications to internationally remarkable achievers and professionals. The program provides transformational support to a global community of over 500 remarkable individuals who are collaborating across disciplines to spark future-shaping change around the world.
Fellowship Description
The TED Fellows Program recognizes people at work on future-shaping ideas, offering them tools to amplify the power of their vision. Each year, a new group of TED Fellows from around the world, and from every discipline, are welcomed into this international community of remarkable thinkers and doers who have shown unusual accomplishment, exceptional courage, strength of character, and potential to create positive change in their respective fields.
Eligibility to be a TED Fellow
To be eligible for the TED Fellowship program, candidate must be:
Extraordinary, multidisciplinary individuals.
Innovators on the rise in their respective fields who are doing bold, original work.
TED Fellows | Selection Criteria
Every year, TED selects a new cohort of TED Fellows to join the program.
Applications are accepted during an open application cycle each Summer.
Through a rigorous selection process, TED narrows down the thousands of applications to a final cohort. The TED Fellows program is one of the most competitive and highly selective fellowship programs in the world.
TED Fellows are chosen based on their remarkable achievements, their interest in contributing to a growing community, their kindness and their innovative approach to studying and solving global toughest problems.
TED Fellows Support
Once selected, TED Fellows receive transformational support. The program offers them TED's power to help articulate and amplify their vision. The program supports TED Fellows with the individual capacity-building required to take the global stage. TED Fellows are also equipped with public speaking and media training, professional coaching, educational programming and connected to a global network of peers and industry leaders.
Application Procedure
How-to-apply: Eligible candidates for the TED Fellows program are to,
Read the 'tips on applying' before applying Online on the official application page,
Fill the form and and provide all the needed information, documentation, links and references.
Then submit their application.
Applications for the 2023 TED Fellowship will close on June 30.