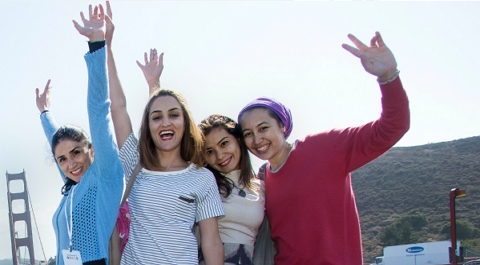 Applications for the TechWomen Emerging Leaders Program in USA is now open to women leaders across the World in Science, Technology, Engineering and Mathematics (STEM) who wish to advance their careers, pursue their dreams and become role models in their communities. The program is fully funded to the United States. Interested candidates are encouraged to send their applications before the deadline.
Program Details
Launched in 2011, TechWomen is an initiative of the U.S. Department of State's Bureau of Educational and Cultural Affairs (ECA) and is managed by the Institute of International Education (IIE). TechWomen supports the United States' global commitment toward advancing the rights and participation of women and girls around the world by enabling them to reach their full potential in the tech industry.
TechWomen brings emerging women leaders in STEM from Africa, Central and South Asia, and the Middle East together with their professional counterparts in the United States for a mentorship and exchange program. TechWomen provides participants access to networks, resources and knowledge to empower them to reach their full potential.
See Also: British Council Scholarships for Women in STEM, UK
Program Benefits
TechWomen Leaders Program in USA covers the following:
Round-trip international airfare
Domestic airfare
Housing
Meals and incidentals
Hotel stay
Public transportation to host company
Local transportation to program events
Level and Areas of Study
The opportunity is for graduate women in fields related to STEM leadership.
Place of Study
The program will take place in United States of America.
Eligibility Criteria
To be considered eligible for Techwomen Emerging Leaders Program, applicants must:
Be women with minimum of two years full-time professional experience in STEM fields.
Have at least a bachelor's degree or equivalent.
Be English proficient.
Be citizens and permanent residents of a country from Africa, Asia or Middle East.
Be eligible to obtain a U.S. J-1 exchange visitor visa.
Not have applied for an immigrant visa to the United States (except the "visa lottery") in the past five years.
Not hold U.S. citizenship or be a U.S. legal permanent resident.
Demonstrate themselves as emerging leaders in their chosen professional track.
Have limited or no prior experience in the U.S.
Have a proven record of voluntary or public service in their communities.
Have a proven track record of entrepreneurialism and commitment to innovation.
Be willing to participate in exchange programs and exhibit maturity and confidence.
Be committed to return to their home countries and share what they have learned.
Check Also: TechGirls Exchange Program in USA (Fully Funded)
Application Procedure
Interested applicants for the Techwomen Leaders Program in USA should complete an online application by the deadline.
Submission Deadline: January 13.