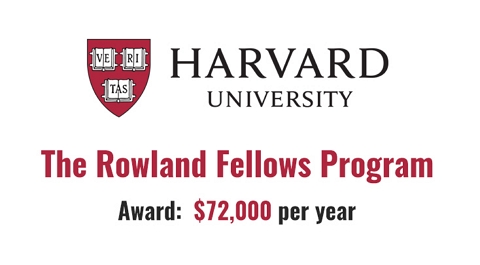 The Rowland Institute at Harvard is seeking applications for Rowland Fellowships that commence in this calendar year. They seek the best young experimentalists in all fields of science and engineering.
The Rowland Fellowship provides an opportunity to establish an independent program in the rich intellectual environment at Harvard and surrounding area. Candidates will have newly awarded doctorates or up to three years postdoctoral experience.
About the Sponsor (s)
The Rowland Institute was originally founded by the late Edwin H. Land in 1980 as The Rowland Institute for Science, a privately endowed, nonprofit, basic research organization, conceived to advance science in a wide variety of fields.
Award Value
The stipend for Rowland Fellows will start at $72,000 per year, depending on the candidate's experience.
Level and Area of Studies
Doctoral and postdoctoral program in the field of energy science and engineering.
Place of Study
In the United States of America.
Eligibility and Criteria
To be eligible for this Rowland Fellowship Program, applicants must satisfy the given criteria as follow:
Have completed their doctoral degrees prior to starting their term.
Newly conferred doctorates as well as from candidates with postdoctoral experience.
Applicants' Nationality
There is no nationality restriction.
Application Instruction
Applicants should submit a one-page research proposal and a two-page curriculum vitae (CV) through the link below. Candidates also should arrange for three letters of recommendation to be sent. The proposal, CV, and letters of recommendation may be uploaded as per the information.