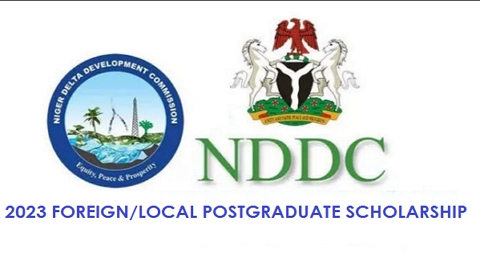 Applications for the NDDC Foreign/Local Postgraduate Scholarship programme is invited from Nigerian students intending to undertake Postgraduate degrees either at Foreign or Local universities. The programme is aimed at boosting local contents professionalism through acquired specializations. Benefits are very rewarding and fully paid.
Scholarship Description
The NDDC Foreign Postgraduate Scholarship Programme is packaged to further boost human resource development in the Niger Delta region by the Niger Delta Development Commission, NDDC, and to equip young people with relevant training and skills for effective participation in the local content programme of the Federal Government, as well as enable them to acquire specialization in their fields of study and thus compete globally in various professional disciplines.
The scheme is for suitably qualified applicants, with relevant Bachelor's Degrees from recognized Universities in the following disciplines:
Biomedical Engineering
Software/Aeronautic Space/Aeronautic Engineering
Marine/Chemical/Petrochemical Engineering
Civil/Mechanical/Metallurgical Engineering
Electrical/Electronic Engineering
Robotic Engineering
Information Technology
Artificial Intelligence
Math/Sciences
Medical Sciences/Medicine and Surgery
Hospitality Management
Law
Architecture
Award Benefits
The amount for the foreign scholarship shall be very rewarding and shall be based on the prevailing exchange rate of the Naira.
See Also: ECOWAS Internship Immersion Program for Young African Graduates
Level and Areas of Study
Postgraduate degrees in select programmes.
Places of Study
Foreign and Local Universities
Eligibility Criteria | NDDC Foreign/Local Postgraduate Scholarship programme
Eligible candidates should be Nigerians who meet the following criteria:
Scholar must come from the Niger Delta region.
Possess five Credits at not more than 2 sittings.
Students must obtain First Class Degree/Second Class Upper Division to benefit from the Scholarship.
SELECTION PROCESS
Online application on the Commission's website
Shortlist candidate using:
WASSCE/ NECO
Undergraduate degree (1st Class/Second Class Upper)
iii. Local Government Identification
Computer Based Test to be conducted in each State of the Niger Delta by Consultants. This will test I.Q proficiency in English, Mathematics and General Paper.
Score a minimum of 70% in the test.
Shortlist Successful candidates.
Final verification through the Local Government Areas and Community Development Committees.
Check Also: KPMG Canada International Internship Program
Application Procedure
Application for the NDDC Foreign/Local Postgraduate Scholarship programme must be made online (FREE) on the Commission's website (www.nddc.gov.ng) with the following attachments:
Recent passport photograph.
Local Government Identification letter.
Post Graduate admission letter from a recognized Overseas/Nigerian University.
Relevant degrees from recognized Universities.
Successfully completed application form will be assigned a registration number automatically
Print the hard copy of the on-line generated acknowledgement for ease of reference.
All shortlisted applicants will be posted on NDDC website.
Shortlisted candidates will take part in a Computer-Based Test (CBT).
Deadline: October 25.