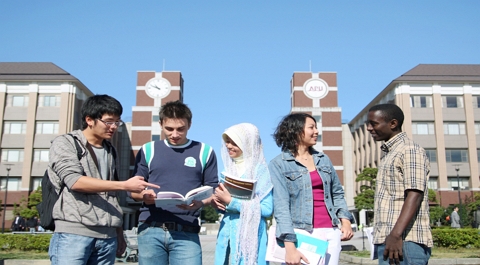 The MEXT APU Japan Scholarships is a University Recommendation (UR) scholarship now open to outstanding international students from across the globe who may not be eligible for or been a beneficiary of other MEXT scholarship schemes, or from an underrepresented segment of the society. To be considered for this scholarship, applicants must first apply to APU irrespective of program or level – Bachelor, Master's, or Doctoral programs. APU will then select eligible candidates to recommend to the scholarship organization.
Scholarship Description
The MEXT APU Japan Scholarship is awarded to outstanding international students who are recommended by Asia Pacific University (APU). The Japanese Ministry of Education, Culture, Sports, Science and Technology (MEXT) provides this scholarship with the aim of enhancing the international competitiveness and promoting the active exchange of international students in Japanese universities.
See Also:  Top International Scholarships to Study in Japan (Fully Funded)
Eligibility Requirements
Eligible candidates should:
Intend to study abroad in Japan from overseas.
Be a national of a MEXT designated country.
Be born on or after April 2, 1988.
Have achieved a GPA of at least 2.30 on a 3.00 scale at their most recent university.
Also note that:
Those who are serving on active military duty or civilians employed by the military at the time of application are not eligible for this scholarship.
Recipients must be able to arrive in Japan during the arrival period stipulated by APU.
Those who apply for this scholarship cannot have received a MEXT scholarship in the past unless they have more than 3 years of educational research experience after the final payment of the previous MEXT scholarship award.
Those who apply for this scholarship cannot be applying for another MEXT scholarship.
Recipients of this scholarship cannot receive a scholarship from another scholarship organization while studying at APU.
Recipients of this scholarship must have "student" as their status of residence (visa status) in Japan.
The score validity period requirement for the English Proficiency Test Score: Only scores of examinations taken on or after March 24, 2021will be accepted.
Award Benefits
The MEXT APU Japan Scholarships is fully funded to cover:
Full admission fee.
100% of tuition (covered by the APU Tuition Reduction Scholarship).
144,000 JPY per month for living expenses (amount subject to change).
Economy class air travel between the home country and APU at the beginning and end of the program
Also Check:  Rotary Global Grants Scholarship Program
Application Procedure
How-to-Apply: To apply for the MEXT APU Japan Scholarships for Undergraduate and Graduate studies,
Visit this Application Link first to start your application.
For Undergrads, tab on Undergraduate  at the top right.
For Graduates, tab here to process your applications.
The application submission for the APU Scholarship must be done online.
Submit the APU application by November 16, 2022 (for September 2023 Enrollment).