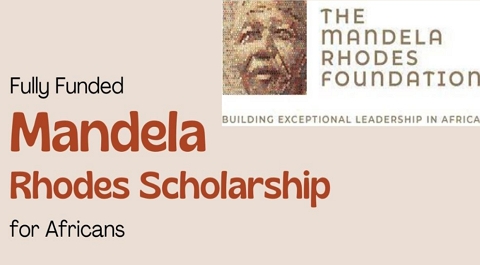 Applications for the Mandela Rhodes Postgraduate Scholarships to eligible Young Africans between the ages of 19 and 29. The Mandela Rhodes Foundation is offering opportunities through these scholarship to young, dynamic change makers to undertake a two-year fully funded Master's study in South Africa. The scholarship is a leadership development programme targeted at young people.
Scholarship Description
The Mandela Rhodes Postgraduate Scholarships for Young Africans is a life-changing leadership journey.
The scholarship combines financial support with a leadership programme that will challenge you, grow you, and connect you to young African changemakers – just like you.
Benefits
Leadership Development.
The Mandela Rhodes Postgraduate Scholarships offers comprehensive funding for the core costs associated with your studies.
It covers tuition for a one-year Honours degree or a two-year Master's degree in any field at a recognised South African institution of higher education. This includes tuition and registration fees, allowances for study materials, research, and medical aid, accommodation and meals, personal allowance and economy class travel to and from your home country to your South African university at the beginning and end of your degree.
You will also receive a personal allowance.
See Also:  African Masters in Machine Intelligence Program (Fully Funded)
Eligibility Criteria
To be eligible to apply for the Mandela Rhodes Postgraduate Scholarships for Young Africans, you must (be):
A citizen of an African country.
Between the ages of 19 and 29.
By 1 January following application year, having an undergraduate degree with excellent academic results (above 70% or upper-second class Honours).
Able to study at a postgraduate level in English.
Aspiring to be an ethical leader, committed to using your talents to advance equality, freedom and human dignity in Africa.
Admire Nelson Mandela's ability to bridge divides and bring people together around our common humanity.
Prepared to reflect deeply on your own leadership and undergo a process of personal change and growth.
Check Also:  MasterCard Foundation AfOx Scholarship Programme for Young Africans
Application Procedure
Before applying to the Mandela Rhodes Postgraduate Scholarships for Young Africans, know that:
Applications timeline for this scholarship runs from March to November of each year, for the following year's intake.
Applications open in March  and close April yearly.
You will apply online, and access the application platform through the official website.