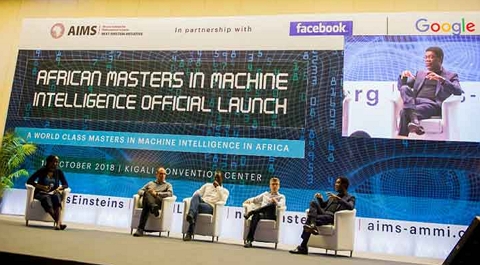 Young African graduates interested in building a career in information technology are invited to send their applications for the African Masters in Machine Intelligence Program. The offer is a fully funded opportunity for the graduate students. Intending candidates are encouraged to apply before the deadline.
Program Details
The African Masters of Machine Intelligence (AMMI) is part of the African Institute for Mathematical Sciences (AIMS) ecosystem of advancement of the Machine Learning in the service of global society. The AMMI program prepares well rounded machine intelligence researchers who respond to both present and future needs of Africa and the World.
The African Institute for Mathematical Sciences (AIMS) is a Pan-African network of centers of excellence for post-graduate training, research and public engagement in mathematical sciences. This institution enable Africa's brightest students to become innovators that propel scientific, educational and economic self-sufficiency.
Check Also: A*STAR Computing and Information Science (ACIS) Scholarship
Program Benefits
AMMI is a novel fully funded one-year intensive graduate program that provides brilliant young Africans with state-of-the-art training in machine learning and its applications.
Levels and Areas of Study
The training program is for graduates in the fields related to Machine Technology.
Eligibility Criteria
To be eligible for African Masters in Machine Intelligence Program, applicants must meet the following requirements:
A bachelor's degree in mathematics, computer engineering, computer science, electrical engineering or equivalents from a recognized accredited institution.
A satisfactory scholastic average, usually a minimum of B (or 80%) is required
Interest and/or background in artificial intelligence (AI), machine learning related-fields demonstrated in courses and projects undertaken.
Consent to mentor an undergraduate student at your previous institution while enrolled at AMMI; Consent to mentor an AMMI student after graduation.
Strong interest in solving national or continental problems using science and technology.
See Also: AI4D Scholarships for Sub-Saharan Africa
Application Procedure
Candidates admitted for the AMMI Program are automatically granted a full scholarship. Interested and eligible candidates seeking admission into AMMI Program are to apply at the application portal to be considered for the scholarship.
Submission Deadline: Not Stated.