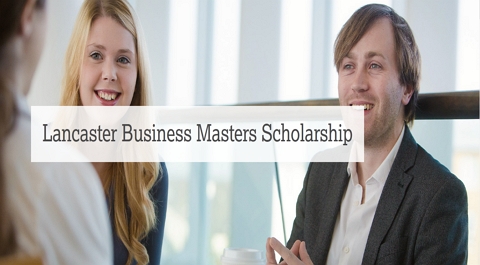 The Lancaster Business Masters Scholarship is now open to international students with good academic performance who intend to enroll  for Masters degree program at the Lancaster University for the next academic session. The award value of the scholarship fee is worth £4000 to cover the tuition fees. The application for this program is ongoing.
Scholarship Details
This scholarship is designed to support and attract international students from a range of international countries to Masters degree programmes offered by the Management School.
The Lancaster Business Masters Scholarship will be awarded as a tuition fee waiver for full-time students in the first year of study only, and will not be given as a cash alternative.
The award is for 2022 entry only. The Scholarships are reviewed on an annual basis and funding cannot be guaranteed for the following entry year for applicants who decide to defer.
Check Also: Top-Paid Scholarships in Canada for International Students
Award Value
A scholarship worth of £4,000 for the first year of entry is available for students joining Postgraduate Taught programmes within Lancaster University Management School.
Level and Areas of Study
This programme is open to post-graduate students in Business Management.
Place of Study
The Business Masters programme will be undertaken at the Lancaster University in the United Kingdom.
Eligibility Criteria
Applicants who meet the following conditions are considered to be eligible for the Lancaster Business Masters Scholarship:
Awardees must achieve the equivalent of a UK 2.1 undergraduate degree.
Applicants must be in receipt of either a conditional or unconditional offer for a place at Lancaster University for October 2022 entry, which you have accepted.
Applicants who are fully funded are not eligible for this scholarship.
Partially funded applicants for less than 50% of their fees would be eligible for this scholarship.
Applicants to the MBA programme are not eligible for this scholarship.
Applicants applying from articulation partners and pre-masters programmes offered by Lancaster University are not eligible for this scholarship.
Awardees must be classed as 'Overseas' or 'International' fee-paying students for tuition fee purposes, for the duration of their studies.
For 2022 entry, if an applicant is eligible for both the Global Scholarship and the Lancaster Business Masters Scholarship, only the scholarship of the highest value will be awarded.
See Also:  HELLA Masters Scholarship Program in Germany
Application Procedure
Scholarships are automatically considered as part of the programme application and will be conditional if the results are unknown.
Scholarship awards will be confirmed automatically for 2022 entry, throughout the recruitment cycle.
If you meet the stated scholarship eligibility and award criteria, the scholarship will be confirmed.
The scholarship is confirmed once Lancaster University is in receipt of your final exam transcript.
Submission Deadline: Not specified.