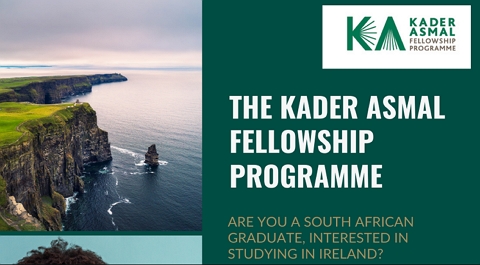 Applications for the Kader Asmal Fellowship are now accepted. Eligible candidates should be the citizens of South Africa or Zimbabwe. Fellows will be undertaking Master's degree in one of the fields listed below in Ireland. Up to eight best applicants will be chosen annually to receive the fully-funded scholarships.
Fellowship Description
The Embassy of Ireland in South Africa in partnership with Canon Collins Trust invites applications from South Africans for the Kader Asmal Fellowship Master's study in Ireland. This flagship programme of the Embassy of Ireland in South Africa is part of the broader Ireland-Africa Fellows Programme offered by Ireland's Department of Foreign Affairs. The Kader Asmal Fellowship Programme is targeted at early career professionals in South Africa, with leadership potential.
The scholarship broadly supports leadership for the Sustainable Development Goals, and supporting the development of women's leadership capacity and women's participation in STEM as key priorities.
In addition, the Kader Asmal Fellowship Programme aims to support students who would not otherwise have the opportunity to pursue a Master's level education in Ireland; and graduates of Universities of Historical Disadvantage and Universities of Technology in particular are encouraged to apply.
Award Value
The Kader Asmal Fellowship programme is a fully – funded award that covers the following:
tuition fees.
examination and other fees.
economy travel to and from your country of residence to Ireland.
settling in allowance, book allowance and study allowance.
accommodation.
a monthly personal living allowance (stipend) to cover other living expense for you only, and
the costs of an entry clearance (student visitor visa) application.
Level and Area of Studies
Master's degree in one of the two strands as follows:
The General Strand: Business Management (Economics, Accounting, and Human Resource Management; Management and Business); Agriculture, Food Science & Nutrition (Agriculture, Climate Change, Rural Development and Sustainability; Food Science and Food Engineering; Bioresource Technology); Public Administration (Economics, Accounting, and Human Resource Management; Public Health, Health Economics and Health Engineering)
The Human Rights Law Strand, for an LLM in Law at Trinity College Dublin.
Place of Study
The study will be taken in Ireland.
Eligibility and Criteria
Eligible Applicants for the Kader Asmal Fellowship must:
Be a South African citizen or a citizen of Zimbabwe holding a South African Permanent
Have Residence Permit and have achieved the necessary standard to be accepted onto a postgraduate course in an institution of higher education in Ireland, and be seeking funding for a full-time master's programme in one of the listed subject areas of fellowship.
Not be applicants already in possession of a Master's degree.
Applicants' Nationality
Only South African citizens or Zimbabwean citizens may apply this Kader Asmal Fellowship.
Application Procedure
How-To-Apply: Eligible applicants to the Kader Asmal Fellowship should proceed to the official webpage of canon collins to apply online using the Apply Now button.