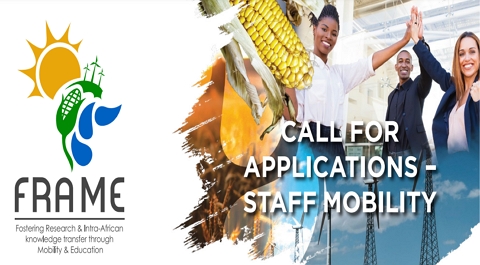 Applications are currently open for the Intra-Africa Academic Mobility Scholarships for University Staffers at Master's and Doctoral levels. The Staff mobility scheme is aimed at Fostering Research and Intra-African Knowledge transfer through mobility and education suite of programmes on Food, Energy, and Water Security (F.E.W.S), and to support education cooperation, thereby improving skills and competences.
Scholarship Description
The call for applications for the Intra-Africa Academic Mobility Scholarships: The Namibia University of Science and Technology (NUST) wishes to invite applications for Staff Mobility under the Intra-Africa Academic Mobility Scheme. The scheme supports higher education cooperation between countries in Africa. The programme's objective is to improve the skills and competences of students and staff through enhanced mobility between African countries. The specific objective is to implement Master's, Doctoral level and staff mobilities via a strong graduate research and studies programme (GRSP) on Food, Energy, and Water Security (F.E.W.S) with a suite of academic programmes on offer at the partner institutions.
The application for the FRAME scholarship includes a two-pronged process namely;
1)      Application to respective host Universities for programme admission.
2)      Application to FRAME scholarship.
Please note that admission to the Universities does not automatically result in securing a scholarship for the FRAME programme. Candidates must therefore meet and satisfy each and both of the admission and scholarship criteria to be offered the FRAME scholarship.
See Also:  Ireland-Africa Fellows Programme (Fully Funded)
Award Benefits:
Minimum duration: 1 month; Maximum duration: 3 months.
Monthly Allowance €1,200 (to be paid to the mobility holder).
Insurance cost €75 per month – medical, travel, accident (to be paid to the service provider).
One (1) return flight ticket
Programme Sponsor
EUROPEAN UNION
Level and Areas of Study
Master's, Doctoral research and mobility in any discipline that supports Food, Energy, and Water Security (F.E.W.S).
Host Institutions
Eligible applicants must apply to the following partner institutions:
Eligibility Criteria
To be eligible to apply for the Intra-Africa Academic Mobility Scholarships, candidates must be:
University staff (academic and administrative), who are nationals of member states of the African Union.
Residents in Africa and employed with the Partner Institutions.
Check Also:  University of Pretoria MasterCard Foundation Scholars Program
Application Procedure
How-To-Apply: Interested candidates for the Intra-Africa Academic Mobility Scholarships should click here to access the application platform.
Documents to be attached to the application:
Curriculum Vitae
Motivation letter
Reference letter from your supervisor
Enquiries: Email: frame@nust.na Website: https://frame.nust.na/
Application Deadline: 13 August 2022.