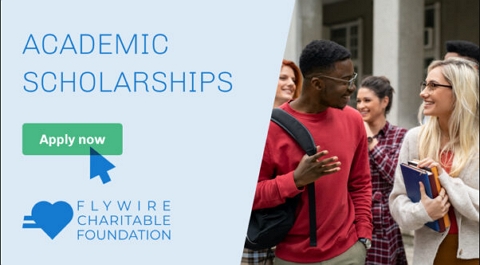 The Flywire Global Academic Scholarships are now open for applications to all Undergraduate students from any country in Higher Education Institutions worldwide. Applicants should choose from amongst the four categories of essay scholarships to apply. Up to sixteen total scholarships of $5,000 USD each will be awarded across the four themes.
Scholarship Description
The Flywire Charitable Foundation aims to improve equality, access and affordability for underrepresented individuals and communities through these Flywire Global Academic Scholarships. The scholarships are available to all levels of students from Post-Secondary to Graduate level in any Higher Institution across the globe in four categories.
Social justice: These scholarships will be awarded to tomorrow's leaders who are committed to eradicating racism, violence, systemic biases and other acts of intolerance.
Global health: These scholarships will be awarded to students who are committed to improving health outcomes and quality of life for individuals all over the world.
Global citizenship: Scholarships in this category will be awarded to students who embody their own definition of being a global citizen with the purpose of making a positive impact on their community and the world.
Environmental sustainability: Scholarships in this category will be awarded to students who are actively fighting climate change and other risks to our planet in order to create a more sustainable environment for all future generations.
See Also: European Commission Peace Ambassador Scholarship to Manchester, UK
Eligibility Criteria
Eligibility for the Flywire Global Academic Scholarships is as follows:
Please review the below information carefully to determine if you are eligible to apply for the 2023 application cycle.
The scholarship program is available exclusively to undergraduate students.
Applicants can hold citizenship from any country but must be attending an institution located in one of the countries listed on our FAQ page.
Applicants must be enrolled for the 2023 Fall term. Funds cannot be deferred for future terms.
Open to all majors.
Each student can only apply to one of the four scholarship categories.
Check Also: 20+ Fully Funded Exchange Programs in USA
Application Procedure
How to Apply: All eligible applicants for the Flywire Global Academic Scholarships must complete the application form and,
Written responses to the following questions are required within the application form:
Tell us about yourself: what are you studying and at what school?
What hurdles have you had to overcome to pursue your studies?
What do you hope to achieve with your education and how does it relate to the theme of the scholarship you have selected?
A select committee of Flywire Charitable Foundation members and diverse global Flywire employees reviews each application individually and applicants are assessed based on adherence to instruction. We recommend that you review all instructions on the application page before you start your application.
Application Deadline: June 2.