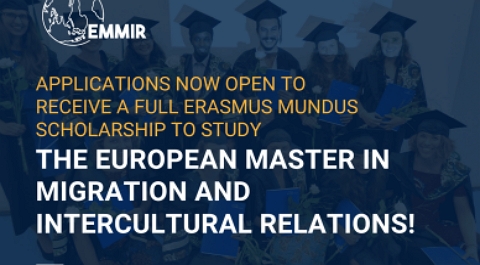 Applications for the European Master in Migration and Intercultural Relations Scholarship are now invited from young graduates with interest in gaining profound theoretical and methodological skills in migration studies, combined with field work in Europe and Africa to apply. EMMIR is a 2-year Erasmus Mundus master's degree in Migration and Intercultural Relations run by a consortium of 9 partners in Europe, Africa, and Asia.
Scholarship Description
The European Master in Migration and Intercultural Relations (EMMIR) is the first African-European-Asian Erasmus Mundus Master Course in migration studies and is jointly run by three African, four European, and two Asian partners, facilitated by a wider network of associate partners. EMMIR is unique, focusing on migration through an intercultural approach. It equips students with profound theoretical and methodological skills in migration studies and allows them to conduct fieldwork primarily in African, Asian and European contexts. It is a multidisciplinary two-year master's programme (120 ECTS) designed to addresses important contemporary issues in a still emerging field of study.
Since 2011, the programme runs under the European label of excellence, Erasmus Mundus. It is fully accredited and graduates will be awarded a joint degree by all EMMIR partner universities. EMMIR includes study periods in both Europe, Asia, and Africa. Student's mobility is understood as a key to mutual understanding of different views and cultures of migration and movement and will sharpen intercultural sensitivity.
Benefits
As an EMMIR student you will become acquainted with different cultures and academic traditions and gain knowledge about migration issues in internships. You will gain profound skills and specialise in one of the programme foci, this will provide you with excellent chances for employment in national and international governmental and private sector organisations or in academia.
See Also:  Erasmus Mundus Joint Masters Scholarship | Application Guide
Partner Institutions
The European Master in Migration and Intercultural Relations, EMMIR is jointly run by a consortium of nine African, Asian, and European groups:
Carl von Ossietzky University, Oldenburg, Germany (coordinating).
Ahfad University for Women, Omdurman, Sudan.
Mbarara University of Science and Technology, Uganda.
University of Nova Gorica, Slovenia.
University of South Bohemia in Ceske Budejovice, Czech Republic.
University of Stavanger, Norway.
University of the Witwatersrand, Johannesburg, South Africa.
Mahanirban Calcutta Research Group in Kolkata, India.
Rabindra Bharati University in Kolkata, India.
Eligibility Criteria
The Entry Requirements for Admission into the European Master in Migration and Intercultural Relations Programme are:
The EMMIR programme builds upon a first degree such as a Bachelor' degree (or an equivalent qualification) in a field related to migration studies: e.g., Social sciences, History, Cultural studies, Educational sciences, Law, Economics, Development Studies and Journalism.
The final grade of the first degree must be a minimum (or equivalent) of C+ and proven by certificates. You are expected to provide documentation of a final first degree by the deadline (a transcript attesting that you took all exams necessary to finish the programme is accepted). This documentation must include your final grade.
Applicants have to document knowledge of migration studies, intercultural relations and empirical methods. Modules completed at the undergraduate level, papers, essays and examination results are considered valid documentation. Preference will also be given to qualified applicants who, in addition, have relevant professional experience.
Your last degree obtained should not be older than 5 years. If it is older, please make sure to explain in your statement of purpose why you chose to go back to university.
EMMIR qualifies students for a master's degree. If you already hold one you should convincingly justify the reasons for wanting to pursue a new masters in a section of the application form.
Language Requirements: Applicants whose native language is not English or whose undergraduate instruction was not in English must demonstrate proficiency in English by the application deadline.
Types of applications based on funding
There are three kinds of applicants for the EMMIR programme:
Scholarship applicants,
Non-fee paying self-funded applicants, and
Fee paying self-funded applicants.
Check Also:  Gates Cambridge Scholarships to Study in UK
Application Procedures
How-To-Apply: To apply for the European Master in Migration and Intercultural Relations scholarship programme, the following application steps must be taken:
Applicants register in eConsort.
Applicants complete the eConsort online application & submit before 15 January yearly.
Applicants receive a confirmation email.
The European Master in Migration and Intercultural Relations team evaluates applications as they are received.
In April, the EMMIR Selection Board will meet and decide about the admissions/waiting list. Successful scholarship and non-fee paying self-funded applicants will receive their admission by April of the year.
Successful fee paying self-funded applicants who apply after January deadline will receive their admission approx. 30 days after submission.
Successful applicants have 10 days to send hardcopies of the application documents & proof of this to emmir(at)uol.de.
Reserve list students may receive admission in May if accepted students reject the offer.
EMMIR Team verifies the hard copies of the documents.
Student Registration and Enrolment process begins.
Cohort 12's programme starts on 01 September 2024.
Online Application
EMMIR uses the management platform eConsort to collect applications. Only after registering therein with your name and email address you will be able to access the online application form.
The application form must be completed online by filling in all the indicated text fields IN ENGLISH; you will be able to complete it section-by-section, and return to continue at a later time
Submission deadlines:
Scholarship and non-fee paying self-funded applicants – 15 January.
Fee paying self-funded applicants – First come first serve, until study places are assigned, at most until 15 July.