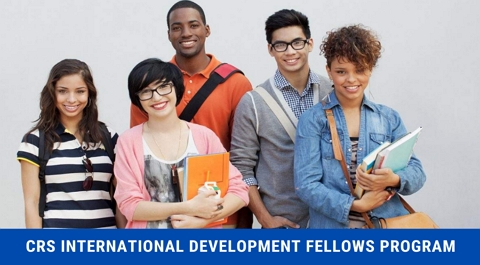 The Catholic Relief Services' (CRS) invites applications for the CRS International Development Fellows Program. This fellowship program offers a valuable opportunity to individuals to obtain new skills and experiences in international relief and development. All of the related costs will be covered with this program including an annual stipend.
Fellowship Description
The CRS International Development Fellows Program prepares dedicated global citizens to pursue a career in international relief & development work. CRS empowers Fellows to hone their skills and gain practical field experience while contributing to impactful work. Each Fellow works alongside experienced CRS staff to address critical issues facing developing countries today. CRS invites applicants of diverse backgrounds who are committed to our agency mission and strategy to join our global team.
The Fellowship is a unique 12-month professional development opportunity, designed to prepare Fellows for success in a range of onward positions with CRS. The Fellowship is centered upon skill building in the following four areas: Project Management, Project Design, Systems & Operations, and Partnership.
Award Value
The winning candidates will receive Full Funding to include: an annual stipend, cost of living adjustment, housing, transportation to and from the country of assignment, medical evacuation coverage and vacation, medical, life, travel, accident, and personal/household effects insurance. Fellows will also get sick and personal leave and 12 paid holidays.
See Also: International Rescue Committee Global Opportunities
Level and Area of Studies | CRS International Development Fellows Program
Non-degree program in Agriculture, Health, Peace building, Education, Microfinance, or a combination of these.
Place of Study
The program will be done in Developing regions.
Eligibility and Criteria
Candidates eligibility for the CRS International Development Fellows Program are:
Graduate degree in field relevant and applicable to international development (e.g. Agriculture, Health, Engineering, Business, Public Administration, Finance, Supply Chain).
Fluency in English with strong oral and written communication skills.
Professional proficiency in a second language (preference given to major languages spoken where CRS works).
At least six months overseas work or volunteer experience in a developing country (consideration given to applicants with at least five years of experience living in a developing country).
Strong interest in a career in development or emergency relief.
Willingness to work in locations with tropical and infectious diseases and limited access to medical facilities.
Able to work respectfully and professionally in a cross-cultural environment.
Applicants' Nationality
The developing countries' citizens are welcome to apply.
Also Check:  Rotary Global Grants Scholarship Program
Application Procedure
To apply for the CRS International Development Fellows Program, follow these three simple steps:
Prepare a cover letter.
Prepare your resume/CV.
Apply online
Deadline: Applications will be accepted through November 01.