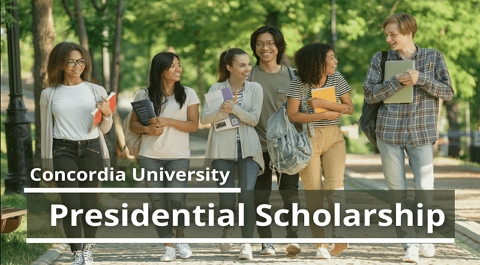 The University of Concordia offers an annual scholarship of Concordia Presidential Scholarship for international students applying undergraduate program at the university. This scholarship may cover tuition fees and living cost. The submission is Fall of every year.
Scholarship Description
The Concordia Presidential Scholarship is the University's most prestigious undergraduate entrance scholarship that supports international students.  Each year, the University welcomes outstanding students from around the world to study, conduct research and innovate in our flourishing institution. This award recognizes international students who demonstrate academic excellence, community leadership and are motivated to make the difference in the global community.
Concordia is seeking nominations from school principals, teachers, or guidance counsellors, who know of exceptional students who plan to attend our school. The award covers all tuition and fees, books, residence, and meal plan fees.
See Also: Lester Pearson International Scholarship at University of Toronto, Canada
Award Value
This scholarship is fully funded to cover tuition and fees, books and living costs based on Concordia's residency rate.
Level and Area of Studies
Undergraduate degree in any field.
Place of study
At the University of Concordia in Canada.
Eligibility and Requirement
To be eligible to apply for the Concordia Presidential Scholarship, applicants must:
First time attending university.
Studying full-time in an undergraduate degree program.
International student, paying full international student rate.
Starting studies at Concordia University in Fall of the year.
Application Instruction
Please see the detail instruction of application process at the official application link.
Submission Deadline
Usually Fall every year.