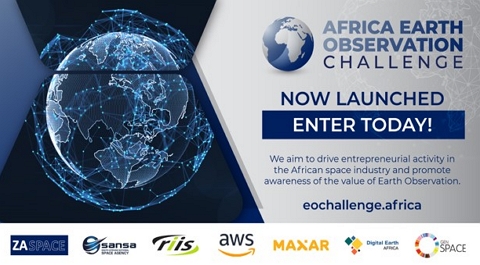 The Africa Earth Observation (AEO) Challenge is open for registration from African Innovators and Entrepreneurs with an interest in Earth Observation and Space Technology. The program aims to identify promising innovators, entrepreneurs, and early-stage businesses across Africa and develop them through support and mentorship into sustainable companies. The Challenge has various ranges of cash prizes on offer to finalists.
Program Description
The Africa Earth Observation (AEO) Challenge is an annual open innovation challenge aimed at sourcing novel space technologies since 2016. This challenge seeks to drive entrepreneurial activity in the African space industry and promote awareness of the value of earth observation data across the continent and in multiple sectors such as water and food security, mining, logistics, insurance, and many more.
Earth observation gathers information about the planet's physical, chemical, and biological systems via remote-sensing technologies. This information can then be used to monitor changes in natural and artificial environments.
BENEFITS
What's in it for the winners of the Africa Earth Observation (AEO) Challenge?
Various prizes will be up for grabs for the Challenge finalists, including:
Cash Prizes: For the first time the Africa Earth Observation challenge will be awarding cash prizes to finalists.
Incubation & Mentorship: 4-month online incubation and virtual mentorship.
Media Publicity: Challenge finalists will have the opportunity to feature in interviews and editorials by Challenge Media Partner Africa.com
Media Support: Technical support will be available to the Challenge participants from the leading EOD specializing organizations.
See Also:  World Bank Join the Mission Recruitment Drive for Africa
WHY NOW?
The African space-tech sector is one of the fastest-growing markets globally, but it is still significantly underexploited. This sector represents a massive investment opportunity.
The African Union has identified earth observation as a critical resource that must be leveraged in achieving Africa's development goals.
One of the best ways to grow this sector is through an open innovation challenge.
EXPECTED OUTCOMES
To identify the most promising innovators, entrepreneurs, and early-stage businesses across Africa and develop them into sustainable companies
To develop Africa's geospatial readiness so that African businesses can service African demand for geospatial intelligence
Check also:  AWS Sustainable Cities Accelerator Program
PROCESS | Africa Earth Observation (AEO) Challenge
SEARCH PROCESS: African innovators & entrepreneurs are invited to submit novel business ideas.
ENTREPRENEUR SUPPORT: Finalists enter a 2-week business development support programme to take their companies to the next level.
PITCHING DEN: Participants pitch to a panel of judges and other industry players. Winners receive a range of prizes.
ONGOING ENTREPRENEUR SUPPORT: All participants are empowered with ongoing support to build sustainable businesses.
TECH DEMO DAY: Selected entrepreneurs pitch to a panel of VCs for investment.